iPad Camera Connection Kit Gets Shipping Date - Late April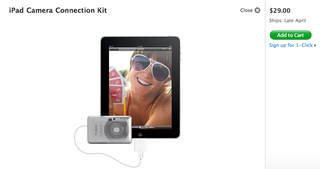 Apple has finally gotten around to making the iPad camera connection kit available for pre-order (opens in new tab) and you can expect it to ship in late April. The kit supports all of the standard photo formats including JPEG and RAW and it sells for $29. Conveniently two connections are included:
The Camera Connector features a USB interface. Just plug it into the dock connector port on your iPad, then attach your digital camera or iPhone using a USB cable (not included).
Use the SD Card Reader to import photos directly from your camera's SD card. Connect it to your iPad, then insert your digital camera's SD card into the slot.
Why it's taken Apple this long to get this particular accessory up for pre-order is beyond us but never the less, it is now available for pre-order.
Get the best of iMore in your inbox, every day!
Your source for all things Apple
J. Sikora's an a$$hole, anyway. He blasts ATT, sucks up to Apple, then plugs the Droid. Credibility? Shot.

FINALLY! this was the one accesory I really wanted. It's perfect for travel.

A USB port and an SD card slot should have been included on the iPad to begin with.

Yeah what happen to all those accessories that. Were suppost to connect to 3.0. Well hopefully they make/allow video cameras to connect to the ipad

Will this work with the ipod touch, too? I've wanted one of these for years.
Also, what about people who's cameras use a different type of card than SD?

Picture this, it's only September

Sweet. This will be great.

If apple wanted it b revolutionary they shld include a sd card reader Usb port n a camera in the ipad itself ... Thn it wld b a real revolutionary gadget .... N will probably be able to replace netbooks

It's not meant to be a notebook replacement...

No interest in the Ipad til it ships with a front facing camera. The Ipad, in it's current state, is not future proofed enough for me.

"Why it's taken Apple this long to get this particular accessory up for pre-order is beyond us"
Possibly because they wanted to ensure the actual manufacturer's delivery date before taking orders? If you contract out your production, as Apple does, you can't always ensure concurrent product release dates. Some of the writers' comments on TiPb (like this one) reflect a very poor grasp of doing business and come across as juvenile... be they directed at Apple or whoever.

looks like a very cynical way to make money on accessories how come the ipad doesnt have a usb port built in?

@ pens parker
increased cost, and redundancy. Someone else wants a sd card reader , someone else a mini dvi connector, then firewire, where do you stop ? this was never supposed to be a netbook. they are just keeping it simple.

@Jessica
As a Works With iPhone developer I have access to certain info. There are some differences with the iPad versus iPhone. It is possible that the next version of OS will address these differences, but at this point I suspect this device takes advantage of iPad only capabilities.
In short, I suspect it will not work with iPhone or iPod touch. At least not yet.

I won't but this overhyped piece of yesterday's technology until it can make my morning coffee for me. And not just when I tell it to, but when it "thinks" I'll want it. Only then will it be cool enough for me.

@WW1 devoper
I agree with you, plus the description page where I ordered the connection kit clearly shows that it is only compatible with the iPad. But, as an iPhone owner, I would LOVE it if they could rectify this situation when iPhone moves to 3.2 or both go to 4.0. Pretty much whenever they unify both devices on one OS. =]

NO way is Apple banging me for another $30 in a camera connectivity kit. The least the iPad should of brought besides the obvious front facing camera is a USB connection.
I would of said SD card slot but you can do a lot more with a USB slot.
WIth all that said, I reserved my 16g ipad on the first day along with the covering case and the holding dock. Can't wait for next saturday!

Ugh..."until it makes me coffee" comment again. This wasn't clever the first time it was said.
And really, where are all the peripherals that Steve talked about during 3.0...

Thanks for the post. I want more!

Latest, Livsim Technology Co.,Ltd launched a new product 2 in 1 ipad camera connection kit.This camera connection kit have one port connect with ipad, another a USB port and SD card slot. With it can easy import photos and videos from camera by USB cable or SD card. It's with good quality and lower price than apples'. Only USD15~USD20 per unit!
If anyone interest it, please feel free to contact me. MSN: kina.shang@hotmail.com