New iPad launching in 25 more countries today -- are you getting one?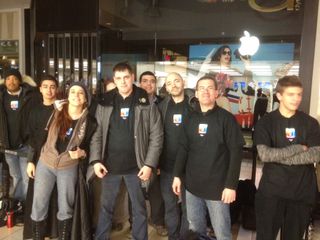 If you're in Austria, Belgium, Bulgaria, Czech Republic, Denmark, Finland, Greece, Hungary, Iceland, Ireland, Italy, Liechtenstein, Luxembourg, Macau, Mexico, The Netherlands, New Zealand, Norway, Poland, Portugal, Romania, Slovakia, Slovenia, Spain and Sweden then you're also in luck! The new iPad launches today in your country!
Are you getting it? Are you lining up? If you are, share your stories and pictures with us in the iMore forums! We'd love to stand in line with you and hear all about how many people are there, what the atmosphere is like, which new iPad model you're getting, and what you think of it once you've gotten it!
If you're still not sure which new iPad you want, jump over to our new iPad buyers guide and we'll help you pick the perfect iPad for you. Once you get it, jump over to our new iPad page for all the help and how-tos, and app and game reviews you need to get it set up just the way you want it!
Once that's done, dive into our new iPad forums for the best help and discussion on the 'net, so you can get the most out of your new iPad.
Get more iMore in your inbox!
Our news, reviews, opinions, and easy to follow guides can turn any iPhone owner into an Apple aficionado
Senior Editor at iMore and a practicing therapist specializing in stress and anxiety. She speaks everywhere from conferences to corporations, co-host of Vector and Isometric podcasts, follow her on Twitter @Georgia_Dow and check out her series at anxiety-videos.com.