New iPad launching in 25 more countries today -- are you getting one?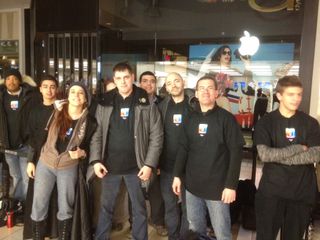 If you're in Austria, Belgium, Bulgaria, Czech Republic, Denmark, Finland, Greece, Hungary, Iceland, Ireland, Italy, Liechtenstein, Luxembourg, Macau, Mexico, The Netherlands, New Zealand, Norway, Poland, Portugal, Romania, Slovakia, Slovenia, Spain and Sweden then you're also in luck! The new iPad launches today in your country!
Are you getting it? Are you lining up? If you are, share your stories and pictures with us in the iMore forums! We'd love to stand in line with you and hear all about how many people are there, what the atmosphere is like, which new iPad model you're getting, and what you think of it once you've gotten it!
If you're still not sure which new iPad you want, jump over to our new iPad buyers guide and we'll help you pick the perfect iPad for you. Once you get it, jump over to our new iPad page for all the help and how-tos, and app and game reviews you need to get it set up just the way you want it!
Once that's done, dive into our new iPad forums for the best help and discussion on the 'net, so you can get the most out of your new iPad.
Senior Editor at iMore and a practicing therapist specializing in stress and anxiety. She speaks everywhere from conferences to corporations, co-host of Vector and Isometric podcasts, follow her on Twitter @Georgia_Dow and check out her series at anxiety-videos.com.
Yeah I grab one today!
I actually wanted to get a white one but it's all sold out whatever version it was so I just got a black 32gb wifi version(as there's no 4g available in New Zealand yet).
I really like the Retina display on the new iPad :) worth upgrade from the iPad 2 I think!

Just got one in Verona, Italy, from the local Premium Reseller. Had to queue for about 2 hours... they had about 60 and were expecting some more during the day. I got a black 32GB wi-fi as well. I had a 1st generation before, this one is so much better.

Yeah!
Just sold my ipad2 at 9:30, and get the new one at 10:00 :) no queues!
The retina display is amazing, and now i can test my 4G network here in portugal!
I will see if i can get 150 DL and 60 mbits UL like i get with my 4g dongle!

No, cause Apple still doesn't sell it in Russia, I wonder why?! Apple products are so f**king popular here, but we get all those devices in the last wave...
Ordered 64Gb+4G in ComputerUniverse some days ago. No have to be very patient, cause out post is very very slowww...

Got one in Mexico...32G wifi in black :)
Get the best of iMore in in your inbox, every day!
Thank you for signing up to iMore. You will receive a verification email shortly.
There was a problem. Please refresh the page and try again.