The new iPad already facing supply shortages, new orders shipping in 1-3 weeks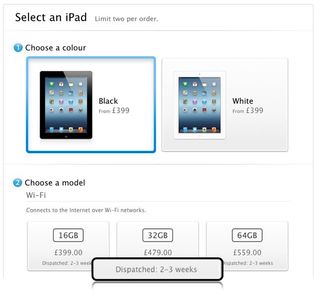 Have you pre-ordered your new iPad yet? If not, you could be in for a bit of a wait. It seems that Apple have pushed back the shipping date in most counties. The Apple Store now displays 'Delivers between the 16th and the 20th March'. In the UK, it's even worse with '2-3 weeks'.
People in the US, have a little while longer to go yet; however Apple are warning that the new iPad is in 'limited supplies', so they could be seeing a delay very soon.
Did you manage to get your order in? If so, when are you expecting delivery
Writer for iMore, YouTube Vlogger, and Host for [TEChBrits]
I'm glad I got to order mine right away; I had it ordered by 2pm PST. Just got the shipping notification an hour or so ago. Says the estimated delivery date is March 12 strangely enough. Doubt it'll be here then, though. I don't think Apple would allow them to deliver it that early.

Did you ask apple to engrave your iPad? Are you in US?

iPad is the biggest waste of money known to man. Just by a Playbook under $300 has way more functionality than this giant iPod touch. It has flash which the iPad Doesnt and You can even connect it to your big screen which is awesome and is also something iPad can't do unless u buy an overpriced adapter which can only do 4:3 not even 16:9. You isheep are so brainwashed over this crap..

daf*q are you doing on this website? just saying...

A douchie comment from an ignorant Canadian.

Flash. Now, there's an essential technology for the future. Gotta support those tags, too.

Yeah a playbook. Keep it moving dude seriously. If we want comedy we'll read the Sunday comics.

Pass the weed. I wanna be just as bombed as you.

I looked at the order after I posted. Apparently only my Smart Cover is going to be here on the 12th. I figured they'd be shipping together; didn't bother to check the email past the tracking number. Oops. I'm in Canada and I figure I'll get my iPad on the 16th like everyone else.

when i pre-ordered my verizon iphone 4, it came 2 days before it was avaliable in stores..
i hope to get my verizon ipad soon

Is this anything new? Apple always keeps very short stock at first so their products sell out and try to create more demand thinking it is harder to get it.

I ordered as soon as the store came back online. I have a projected shipping date of March 16-20th but no UPS notification yet.

I ordered mine yesterday around 6ish, but still have yet to get a confirmation email from them, I'm starting to get nervous

Ordered mine a 4:00 est On release day. No shipping info yet. People are getting there shipping notices already! Damn so impatient.

Ordered mine this morning for in store pickup on March 16th. Got my order confirmation and everything seems to be fine so far.

Ordered mine last night, and got my email confirmation about 3 hours afterward.
Now waiting patiently...

Ordered 3/7, confirmation email 3/8 indicating ready to ship, but no shipping email, but indicates delivery date 3/16. We will see.

Ordered mine around 5:30 est, got confirmation email but says processing. Ordered 32gb white wifi only.

Finally got on and placed an order for (2) iPads, (2) smart covers and (2) Apple-Care just before 5:00 p.m on 3/7/12. Got confirmation about 45 min later to be delivered on 3/16/12. Got Shipment notifications today on the (4) non-ipad items to arrive on March 14.
I must be lucky to have gotten on site and order the iPads, but I did just sit there and hit refresh until I got the order in. Must have had a couple dozen site being down warnings.

When it says "Delivers on March 16 via standard shipping" are they meaning that I should receive it on March 16 or is that the day that it will begin on its journey from the warehouse to me?

"Delivers on" means "delivers on," not "ships on." Does that help?

So I should receive it on March 16 then? Need to be sure because if it's not supposed to be to me until the following week then I would need to change the shipping address because I will be on Spring Break and not at work.

Oh don't worry. I'll take care of that delivery while your gone. Just tell me where you live. (LOL, j/k)

i'm a little nervous. I ordered at 4:30 got confirmation at 6. nothing else since then. it says processing items on the site.

Mine says the same thing. I keep looking of shipping information but haven't received it yet.

It still says on the site Delivers March 16 here is US

I placed my order the second the Apple Store was up after the announcement, it took about 30 min of refreshing though! Scheduled to be delivered on March 16 (I'm in the US). Current status of order is "processing items". Can. Not. Wait.

Still says between March 16 and March 22 for Australia, but going to try and buy mine on opening day at my local Apple store.

Was hoping to get mine on March 17, except Ireland was left out of the initial rollout

I ordered mine right when the store reopened. Had trouble on a windows laptop, but had better luck on my iPhone. Still took an hour total between the two. Even with getting an engraving I already received my ups shipping notice early this morning. My first iPad, and I'm excited!

My email says that I should get it on 16th.

Today I ordered, I received my confirmation email at 6:31 pm PST stating:
iPad with Wi-Fi 64GB - Black (3rd generation)
Delivers on March 16 by Standard Shipping

The only iPad in the US that I see that is not still shipping on the 16th is the 32GB black ATT model. Everything else is still being delivered on launch.

when i pre ordered my verizon iphone 4, it came 2 days before it was avaliable in stores..

I got my shipping notice for my new iPad 3 HD ( what ever) this morning! Coming FedEx and with a tracking number!

Glad I got my order in... :)

Got my delivery UPS tracking number this morning. Still targeting the 16th and its in China at the moment. 32gb wi-fi black with engrave.
Cant wait.....but nervous I havent told my S.O. yet.... hah.

I ordered my black 32GB 4g about 2 hours after CEO Tim Cook finished his speech. I live in northeastern U.S. What's strange is that my iPad has already arrived in Lousiville KY this Saturday morning. Does anyone know if you can receive the iPad before the 16th? Its pretty close to my home already!

I'm in the same boat as you, Pete. I could drive to Louisville to pick mine up and be home way before the 16th, LOL... Hoping it's a fluke that it will arrive early!!

Ordered my 4G+WiFi on the 7th about 2:30pm CST. Got confirmation at 3:23pm CST with a delivery date of 3/16. Still haven't received shipping info yet though. Starting to worry a bit.

I ordered my new 3rd generation ipad on Mar 7th at 530pm est. I just received my Fed Ex tracking number with a delivery date of Fri. Mar 16th.

I want text to speech converter in own voice source code.pls sent to my mail id.pls........

Really wonderful site thank you so much for your time in writing the posts for all of us to learn about.

Can I somehow embed this gallery to a page on my website, or at least be able to add a menu bar at the top and change the background color of the gallery?
Get the best of iMore in in your inbox, every day!
Thank you for signing up to iMore. You will receive a verification email shortly.
There was a problem. Please refresh the page and try again.