iPad mini already installed in a car dashboard, could be the perfect in-car entertainment device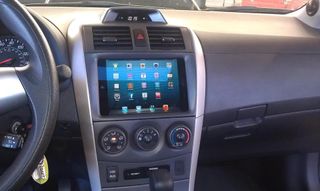 The iPad mini was only available to buy yesterday but it has already found its way into a car dashboard. The guys from Soundwaves in Tampa, Florida were really on the ball with this one by pre-fabricating the necessary dashboard mods all ready for the iPad mini's launch.
Once they got their hands on an iPad mini yesterday morning, it was all systems go. To make this project even more interesting, the guy's filmed the install and testing for your viewing pleasure. The iPad mini is fully removable too so no need to worry about leaving it behind when you leave your car.
The prospect of having an iPad mini as your in car entertainment system is certainly one that whets my appetite. It would probably be better to wait for the iPad mini with LTE to enable the GPS features as well as the possibility to access streaming services as well all as everything else an iPad mini can do. Looking at this set up, using an iPad mini as an in-car entertainment system seems like the perfect solution.
Would you fancy having an iPad mini as your in car entertainment system?
Source: Soundwaves, YouTube
UK editor at iMore, mobile technology lover and air conditioning design engineer.
Looks very cool. Makes my intellilink in my 2013 Buick Lacrosse look old. I agree that if someone were to do this they should wait for the LTE version.

Love my job, since I've been bringing in $82h… I sit at home, music playing while I work in front of my new iMac that I got now that I'm making it online… www.fab17.com

my buddy's mother-in-law made $18280 the prior week. she been working on the laptop and got a $462100 home. All she did was get lucky and follow the information revealed on this site *-*INFO30.com*-*

Honestly, on its own, it wouldn't be. Without the control add on it requires you to look tahrd iPad mini in order to tap the right buttons. Distracting and not so safe. With an add on or other control with bigger knobs (ha), you can feel for the control without having to take your eyes off the road. I would be more a fan of just iOS Integration

Shut up and just enjoy it stupid.

I'll definitely enjoy it when some moron messing around on Facebook on his dashboard iPad mini rear-ends, or changes lanes into me. Good call.

unlike what others are saying to your comment, jib21, i have to agree. I currently have a self-made mount to have my iPad 3 in my car, and while it is great to have a 9.7" screen for GPS and music and such, i cannot really do any real navigation with it unless I am at a full stop. This all still doesnt stop me from having my iPad 3 set up in this manner, but i just have to limit my interactions with it while on the drive.

I'll be doing this in my wrangler. Can't wait I've been hoping for a mini for 2 years so I could do this. My regular iPads are just too big.

I really like it. I agree that the targets should be bigger, but that's on the regular-sized iPad, as well. When I'm playing music, the buttons to play, skip, etc are way too frickin' small. I can mis-tap them, even when stationary. It can be a challenge while driving. This may be a pretty good look at the future, though. I doubt many in-dash systems are much better than this set-up. Toss in (better) Siri, and we all out of excuses. :-)

Thanks but, please notice the "better" in "Toss in (better) Siri..."

Now that's how a professional does an iPad mini launch. By being ready for product launch with products certified to work for it. If everyone did that, everyone would be selling Apple products. The simple fact is that, people do by accessories for Apple products and they do buy apps. There is an entire unbroken large quantity resource of apps, most of which are reasonably priced. Someone with a 32 gig Apple device has a ton of storage to use, and the apps just work. Anything you don't like, you can uninstall and go looking and find something you do like. It may be free or a few bucks but that's it. and it's always there. So really, anyone complaining about it isn't one of the millions of app and device makers who are going to get rich from an iPad mini or iPhone 5 device. Even if less people bought them than someone else, you know SOMEONE bought them and is using them and that's a built in audience for you to sell something to. Case in point? Right here, our friends at the iMore store. I've bough very reasonably priced phone cases from them and they and their platform partners are great to do business with. And they have solid customer support too. More companies selling Apple products is good for everyone. The company. The employees. The stock holders. The consumers.

One other thing. I've had the Kindle Fire HD and I have to tell you that as usual, despite the fact that it has this and that and does this and that, it's performance is sluggish and slow like my old HTC EVO 4G had become when it upgraded to Gingerbread. It should be moving faster and more smoothly, but it's not. The iPad Mini meets this one. As for the Nexus 7, I dunno. Those don't have an SD slot but with 32GB, you don't miss not having one. But where can you go try out a Nexus 7? You can't. But you can go to an Apple Store and see the iPad mini. Feel it. SEE it work. And then if you have the money to do it, how can you not buy it. That's how they get you. It's difficult for me to consider doing it at the price they're asking, considering that my iPad 2 runs like a champ and sits in a nice leather case. It definitely won't be the Kindle Fire HD.

Yeah! That's what I'd say we need more bad drivers playing with iPads while driving instead of just phones. Leave your gadgets off when you drive people, the life you save may be your own.

Oh yeah cause fumbling around with finding tapes or CDs for the previous 3 decades was not distracting at all.... Having Siri imput for turn my turn audio so you don't have to really look is so distracting. And hitting a button on a screen instead of a tiny number on a regular deck is so distracting. If anything this is 10 times easier to use then my current pioneer Avic double din touch screen

Shouldn't be messing with those things either. It's a 2 ton automobile. Set your gps before you leave, stop to eat like a civilized person, load your cd changer before you go. If you don't have a cd changer then just listen to the date I say radio? Yor responsible for more on the road than just yourself.

I agree, but you are missing one thing. The idiot factor. This device can also play movies and videos. In my state it is illegal to have DVD players mounted in the front seat....not sure what the law is in the other states. How many idiots do you think are going to try and watch a movie and drive at the same time? That number may surprise you.

Let's not forget angry birds.

Plenty of drivers have radios, cd players, navigation units, food, children, adult passengers, etc already. Avoiding gadgets is kind of an arbitrary reaction to the fact that some/many people multitask poorly but I'm not sure an in-dash iPad is any worse than most on-screen systems.

True, except many functions on most factory dash systems don't work when you're moving. And they don't play movies/games or allow you to stare at Facebook.

That, too, comes down to an issue of personal responsibility. People who can have an iPad installed in their dashboards can have an iPad in their laps. So the answer isn't to force a limitation on them, for every possible gadget and scenario, but to give people the knowledge and tools to do what is right. Those whose choices lead to damage or tragedy are the ones whose rights and liberties should be in-jeopardy because they'd have made such mistakes with or without the safeguards and extreme self limitation that you suggest. Or out another way, plenty of people drink and drive but we don't stop people from doing either until they screw up as a result of doing both. That's not to say that everyone should drink and drive. It suggests that neither extreme is the answer.

And a whole new era of car burglaries is born... Pretty cool though.

It seems easy enough to remove, but it IS an extra step when exiting the vehicle. It shouldn't be too hard for them to make the enclosure lockable though.

Looks perfect. I'd buy it for my car.

Yes please. How do I get it installed in my 2010 Skoda Yeti???????

It's a cool setup. I like the idea

Great post! this might just be the perfect car stereo head unit.

I think its stupid especially since it doesnt have an FM tuner. And Facebook, FaceTime, and IMessage in your car? Just another accident waiting to happen. Cant even use the Maps because you need data. Useful if you tether or wait for the LTE. How did he get a fully digital connection? As far as I know there are no lightning adapters for that. Headphone jack only outputs analog. I think its a "cool idea" but you are limited to what you can do with it.

The iPad is most likely connected via Bluetooth. The Audisson (sp?) system would be driving everything else, ie: FM, CD, Telephone. We have a Ford with Sync, and the steering wheel/console controls pass through Play/Pause and FF/RW commands through the Bluetooth link. I bet it isn't any different in this case.

It's too bad you guys can't do anything like this:
https://www.imore.com/e?link=https2F2Flinks%2F1...
Get the best of iMore in in your inbox, every day!
Thank you for signing up to iMore. You will receive a verification email shortly.
There was a problem. Please refresh the page and try again.