iPad at Work: IT Administrator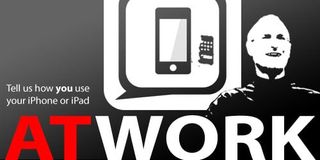 How does an IT Administrator use his iPad to get the job done and what iPad apps help get him through his day? TiPb's iPad at work contest aims to bring you just such slices of the iPad life. Here's MstrWebmastr's answer and as a small token of thanks we're sending him a $20 iTunes gift certificate. If you want to see your name up on the TiPb home page and get a gift certificate all your own, head on over to the TiPb iPad Forum and share your story now!
I'm an IT Administrator for a local Church in San Jose, CA. Being an IT administrator for a church, the job is quite wide with my responsibilities. I manage the computers, network & servers, as well as fix problems when they arise, and do A/V tech here and there.
Before the iPad, I was always having to ask people to move so I could use Remote Desktop on their systems to remote in and look at settings on the servers to figure out what the problem is. Now with the iPad, I keep the servers in Mocha RDP's app for quick access to the servers, or to my Desktop when I'm away from my desk. the iPad works for about 80% of what I need when I'm working on a system, but for that other 20%, having my Windows 7 Desktop so easily accessible is a Godsend.
Other than servers, with everything I have to do, I use Calendar to sync with our Exchange server so that I have one central calendar for managing my time effectively & Evernote for syncing my notes from meetings & projects across my Desktop, iPhone & iPad. I use Mail to keep up-to-date with my e-mail inbox to keep in communication with co-workers & vendors. I constantly use Safari to look up information on errors people have, without having to move them out of the way to use their browser to perform the same task.
With the Tech side of things, I use my iTeleport to control our sound system so that I can mix practice sitting in the middle of the room and setup snapshots which allows me to set starting points for my mix from what it sounded like in the middle of the room. I must admit that though iTeleport is an expensive app, the fact that I bought it a year ago for my iPhone & they made it a universal binary which worked on my iPad made me very happy, as iTeleport was the only VNC app I could find which would let me control our sliders. Not only did it work, but unlike most remote connection apps, iTeleport works like a giant trackpad overlaid on top of the screen, so mousing is a lot easier than trying to hunt & peck. When I'm prepping to run a show, I use Planning Center Online's app to show me the order of service for the weekend, or to play songs for the band that need to hear what the MP3 sounded like. When I'm running our video production booth, I use BroadcastPix's iPixPad to remotely activate pre-programmed presets on the board, which is wonderful since I can always have the memories close at hand even if I'm using the hardware board for something else (like camera control).
Overall, I bought the iPad hoping I could use it all day to remote into the servers, and maybe to control the soundboard. In fact what I found was so much more. It's totally revolutionized how I do my job - more so than my iPhone - just because of it's larger screen. I would highly recommend the iPad for any systems administrators who constantly have to wander yet still have access to the servers.
What about you? Are you an IT Administrator? If so, which apps help you get your job done?
Master your iPhone in minutes
iMore offers spot-on advice and guidance from our team of experts, with decades of Apple device experience to lean on. Learn more with iMore!
Former app and photography editor at iMore, Leanna has since moved on to other endeavors. Mother, wife, mathamagician, even though she no longer writes for iMore you can still follow her on Twitter @llofte.