Help us #iPadTourist contest entrants, you're our only hope!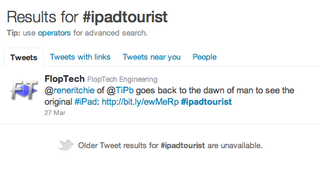 We asked you to come up with your best dorkiest photoshops of the #iPadTourist Rene and post them to Twitter. Obviously we forgot to tell Twitter because for the last few days we've been desperately trying to find all the entries only to face this:
Yeahbuwhathefrak?
We waited a couple of days to see if the Twitter #fail would pass but sadly it has not. Now we've been saving them as they came up, and twitpic has a lot of them, but we know for sure we're missing some and we don't want to miss any. So here's what we're going to do -- we're going to ask you to either email us your pics to news@tipb.com or paste a link to them in the comments below. We'll extend the deadline a few days, then one Friday we'll post our top 10 favorites right here on TiPb.com and let you, the TiPb nation, vote for the winner.
Our apologies for the extra hassle, but you're still getting all the great prizes (and the Hawaiian rhino shirt off Rene's back!) and maybe a little something extra for your troubles! (And Twitter's #fail!)
Get more iMore in your inbox!
Our news, reviews, opinions, and easy to follow guides can turn any iPhone owner into an Apple aficionado
Senior Editor at iMore and a practicing therapist specializing in stress and anxiety. She speaks everywhere from conferences to corporations, co-host of Vector and Isometric podcasts, follow her on Twitter @Georgia_Dow and check out her series at anxiety-videos.com.