iPhone 6 launch was Apple's biggest launch ever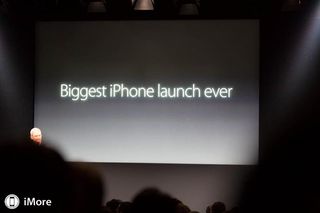 During today's iPad/Mac event, CEO Tim Cook kicked things off right by noting that — unsurprisingly — the iPhone 6 launch was Apple's best yet. It set a new record for the first month in sales, and is the fastest selling iPhone to date. By the end of this week, the iPhone 6 will be available in 32 countries including China — marking the first time the iPhone is available on all three Chinese networks.
The iPhone 6 also set a new record for pre-orders in China, and beat all kinds of records across the globe. In the words of Tim Cook, "I don't mean by a little, I by mean a lot. A whole lot."
Check out more from our liveblog at today's event.
Get the best of iMore in your inbox, every day!
Editorial Director - High Yield
Getting his start writing about BlackBerry in 2008, Adam is the Editorial Director of High-Yield content at Future. Leading an outstanding team, he oversees many of the articles the publisher produces about subscriptions and services – VPN, TV streaming, and antivirus software. From buying guides and how to watch content, to deal news and in-depth reviews. Adam's work can be seen on numerous Future brands including TechRadar, Tom's Guide, T3, TTR, Android Central, iMore, and Real Homes.
No numbers to back up the greatest 30 day claim. We'll have to take Cook's word for it.

They will release them soon don't worry, this is not an event to release numbers

Yup. Apple makes official announcements instead of claiming millions of devices sold when in reality they end up sitting in warehouses. Unsold.
The numbers will be available. In the proper context. Not unsubstantiated off the cuff grandiose claims.

Ok? Sent from the iMore App

The iPhone launches in India today and China took preorders. I find it most likely that Apple will give official numbers in the proper context. And yes, going by what I've been reading in news sources, I've got no reason to doubt Cook's statement.