Jailbreakme.com updated, been far too long working on iPad 2 Jailbreak?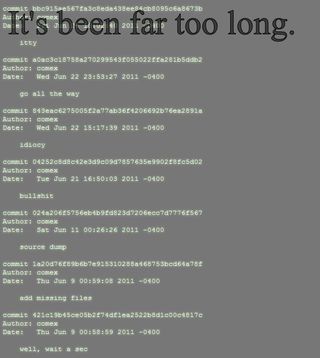 Comex's Jailbreakme.com site has been updated again with yet another image that shows a list of commits along with an overlay saying:
The commits go back almost a year, which is certainly a long time. Whether or not this signifies any progress on the long-anticipated iPad 2 Jailbreak is unknown. Jailbreakme.com was last active during the early days of iOS 4, when a PDF exploit allowed an easy, over-the-web Jailbreak unseen since the early days of iOS 1. The site was recently updated with another cryptic image, so hopefully something is afoot...
Get the best of iMore in in your inbox, every day!
An OTA 4.2.8/4.3.3 JB would be sweeter (for those of us w/out an iPad 2). Snowbreeze didnt work on my VZ 4.2.8. Kept getting an error message upon restoring with the Snowbreeze created iOS

Also make sure that ur not using sn0wbreeze on a Mac bc it's PC only.

If you don't like it why don't you create your own jb tool and release it to the public? Oh because you can't! Stop crying about something you have no clue over!! If it was that easy some one else would have done it already!!

I'd say he has the right to show off, not many people out there with talent to hack like that...I wish I could...TEACH ME

this web site stinks you can not let u jailbreak any thing

Yup comex is right " it's been far too long" so I say release it already stupid ass so I can make money off of ur hard work. Dumb ass. I got customers waiting to pay $50 for jailbreak stupid ass customers lol hahaha ababa fuck all u bitches!!!!!!!
Thank you for signing up to iMore. You will receive a verification email shortly.
There was a problem. Please refresh the page and try again.