Join the Dark Side with these awesome night-friendly wallpapers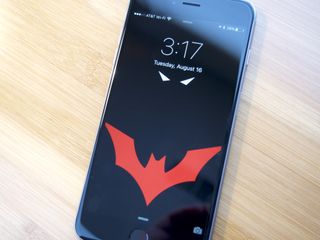 Apple still doesn't offer a system-wide Night Mode for iPhone or iPad, but that doesn't mean you can't take the darkness into your own hands. There are a lot of bright, busy wallpapers out there, but there are also many that come simply, elegantly from the dark side...
Stormtrooper
Most stormtrooper wallpapers are as white as the day is long, but this minimalist wall flips the script and shows what would be a terrifying sight to any self-respecting rebel scum: the mask of an Imperial Stormtrooper creeping out of the shadows to put you in its terribly aimed sights…
Neptune and Triton
Space. A seemingly endless void where no one can hear you scream… But there's still a serene peace to it. Even on a distant and bitterly cold planet like Neptune, we can find beauty and tranquility.
Tron Light Cycle Wallpaper
Try and tell me you don't want a lightcycle. Just try. You can't do it. They're so cool, and whatever you thought of Tron Legacy (and the threequel that got canned), the way it did lightcycles was even cooler. Such a dark wallpaper meshes well with our setups and our souls.
Batman Beyond
Okay, I take back my earlier statement. The stormtrooper isn't that terrifying. If I was in a dark alley and all I saw were two glowing eyes and the bat symbol, I'd be scared witless, and I'm not even a criminal. Batman is a badass and the only line he won't cross is releasing you to the sweet, sweet mercy of death after breaking every bone in your body. He is a symbol of justice to the masses and a symbol of terror to those who would do wrong.
Beauty and the Beast Minimalist Wallpaper by chrisaloo
Great as the film was, there's something about musicals that can (and in many cases does) surpass the original. Musicals are where we see the awesome numbers that were cut from the film for timing. Musicals are where we see new depth to storylines we knew and loved as a kid.
Who says princesses can't be dark? Now excuse me, I need to go belt out 'Home' in a dark tower somewhere…
Beauty and the Beast Minimalist Wallpaper by chrisaloo
What wallpaper would you like to see next?
Let us know in the comments!
Marvel characters wallpapers please

I did some back in May for Civil War, but I need to do more. Any characters in particular you want?

Luke Cage, nightcrawler, gambit

Spider-Man!! Sent from the iMore App

Very pretty wallpapers. Now if only Apple would start using OLED screens we'd be able to properly appreciate the blacks in these pics, rather than the dark greys as they are now.

Hey, I'm a bit of a Noob. How do I apply these to an iPhone 6 Plus? Sent from the iMore App

These are good. But I have one that's been my lock screen for over 5 years. Lol. Sent from the iMore App
Thank you for signing up to iMore. You will receive a verification email shortly.
There was a problem. Please refresh the page and try again.