Kamigami: If Sphero Was A Bug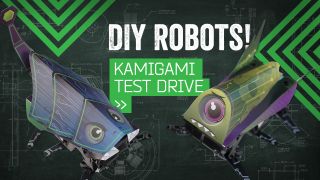 Kamigami! While the name conjures images of giant mechazoids ravaging the Tokyo skyline, these cute little robots are way more fun then they are terrifying. Build them yourself, control them with your phone, and program your own games!
MrMobile gets all robo-entomologist on these fun little critters, just in time to stuff some stockings. Do you like bugs? Do you like robots? Do you like Michael Fisher? I'm going to assume you answered yes to all three, so you really should watch this video!
Stay social, my friends
Justus Perry is a producer for MrMobile. He still likes Match 3 games, despite their ubiquity. He's also a comedian and actor.
Thank you for signing up to iMore. You will receive a verification email shortly.
There was a problem. Please refresh the page and try again.