Choosing third-party accessories over official Apple products can save you a ton of money in the long run. Take this 5-pack of IDiSON Lightning Cables for example. It's priced at $20 on Amazon, right around what a single 6-foot Apple Lightning cable would cost you, and using code CYZKZ7J4 during checkout will drop its price to just $9.99. That means you'll be scoring these cables for only $2 apiece which is a far cry from the $24 cost of the alternative. They'll work just as well as the official ones would, too. Shipping at Amazon is free on orders over $25, and we're trying to pay as little as possible here, so consider using Amazon Prime to get complimentary shipping. If you're new to Amazon Prime, you can click here for a free 30-day trial.
Oh Hi OS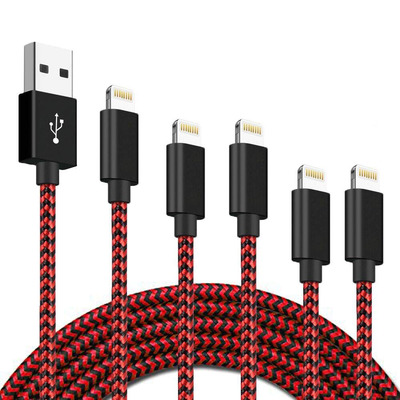 IDiSON 5-pack Lightning Cables
These nylon-braided MFi-certified Lightning cables come in various lengths for even more convenience. Using the coupon code will save you 50% and get you in on a match of the best price we've seen.
$9.99 $19.99 $10 off
These cables are MFi-certified to meet Apple's standards for charging iOS devices, so you won't have to worry about them not working as they should. No "this accessory may not be supported" popups will pester you once they're plugged in. They're built to last, featuring a braided-nylon fiber jacket and aluminum alloy connectors which resist heat and corrosion. Plus, their lifespan is rated at over 5,000 bends, which is quite durable for something you're paying $2 for. Each cable in the pack is a different length so you can use them how you see fit. Place a short cable in your car for easy charging without clutter, or pop the six-foot cable behind your couch so you can stop sitting awkwardly when you're using your phone and watching TV. You'll get two 3-foot cables, two 6-foot cables, and a single ten-foot cable. You'll also receive a one-year warranty with today's purchase.
Now that you have yourself some new cables, where will you be using them? You can save on a car charger right now. Alternatively, if dealing with wires isn't your favorite, check out this discounted wireless charging stand instead.
We may earn a commission for purchases using our links. Learn more.