KeyFolio and KeyStand Bluetooth keyboards coming to the new iPad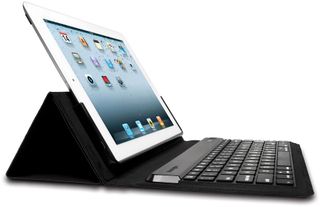 The new iPad is going to have a screen density higher than any computer but what it won't have is an actual physical keyboard. Sure, some people can type up a storm on the virtual keyboard, but for traditionalists Kensington is offering the KeyFolio Expert Multi Angle Folio & Keyboard and the KeyStand Compact Keyboard and Stand for the new iPad.
The KeyFolio Expert connects via Bluetooth and is meant for those who want the portability of the iPad but need the productivity of a physical keyboard. The "multi angle" part means the KeyFolio can adjust to suit where ever you are typing, from a table to your lap. The folio includes magnets, just like Apple's own Smart Cover, and lets you adjust the angle when open and protect your screen when closed.
The KeyStand is a less expensive alternative that's slim and easy to take with you anywhere. It also connects via Bluetooth and has a magnetic cover to protect your screen.
Both are available for pre-order now.
$109.99 - Keyfolio Expert - Pre-order now
$79.99 - Keystand - Pre-order now
Senior Editor at iMore and a practicing therapist specializing in stress and anxiety. She speaks everywhere from conferences to corporations, co-host of Vector and Isometric podcasts, follow her on Twitter @Georgia_Dow and check out her series at anxiety-videos.com.
I would like to know the same thing, I've been trying to get in touch with them about it.

I really like the Expert but don't know if I want to wait for a case. I want a case that will be available from day one.

Uhm... :17 sec into the video... is something wrong with the case? Look at that angle. Again, at 1:25. It's leaning to the right. Great concept, but the product - at least in their own video - looks really cheap.

To me, it looks like they just don't have it pushed down all the way on the one side. At least that is what I hope. Otherwise, it looks like a nice case that I may consider getting.
One thing I'm not sure of is how it folds up when closed. It looks like the keyboard keys would be touching up against the iPad screen. They don't really cover this in the video.

Unless they update, Amazon states usually ships in 1-2 months.

She was a really good spokesmodel/person i'm used to the engineers who create these things doing the videos very poorly.
Get the best of iMore in in your inbox, every day!
Thank you for signing up to iMore. You will receive a verification email shortly.
There was a problem. Please refresh the page and try again.