Microsoft is now seeking beta testers for Cortana on iOS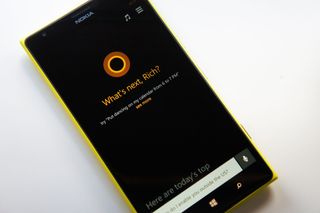 Cortana is Microsoft's personal assistant available for Windows and as beta for Android. The company is now seeking testers for an initial Cortana beta release for iPhone and iPad. Those of you who have been eagerly awaiting the arrival of Master Chief's trusted ally will now be able to enter the program, which has a limited number of spots available.
The company has noted already (opens in new tab) that some features available on Windows are not yet implemented on the iOS version – including "Hey, Cortana" to wake up the assistant – but the team will work on ensuring the experience is solid when used within a Windows ecosystem.
For the time being, this initial public release is available in China and the US only, and as aforementioned, access will be limited. Download links will be fired out to accepted applicants in the coming weeks.
You'll need to fill out this Microsoft survey to get started.
Potential iOS Cortana users should for sure take a peek at the privacy statement...

Maybe you should read Apple's? I doubt you've read either one. Likely you're just passing along more Microsoft hate like so many ignorant asses do!

If you were trying to be helpful you would just point out the troublesome parts of of the privacy agreement. Instead, you're just being "that guy." Sent from the iMore App

Actually, I have read both -- and there are key differences pertaining to what occurs when you use their digital assistants. Good read -- maybe skim over them, or not -- you may prefer to continue on in blissful ignorance ;-)

I don't have it right now but someone took that privacy statement line for line and connected it to the relevant functionality like identifying packages to track in emails, creating calendar appointments, etc. Sent from the iMore App

You actually read both the Microsoft privacy statement & Apple's? Wow. Kudos to you... as the only one that has done that.

After using Cortana AND Siri, I found Cortana to be much more competent. I am excited for this. Sent from the iMore App

I miss cortana, hope I get selected. The integration wont be as nice as it is on a Windows phone, but hopefully its compelling enough to have on an iPhone. Will see.

I want Cortana to work with my MS Band 2. That's the only function that currently doesn't work (obviously). Sent from the iMore App

The only reason this is remotely interesting to me is due to hopefully better third party app integration, like a different map app, music app, etc.
Thank you for signing up to iMore. You will receive a verification email shortly.
There was a problem. Please refresh the page and try again.