How Ted Lasso could be the key to unlocking the United States' soccer potential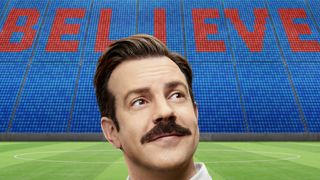 (Image credit: Apple)
Ted Lasso season 3 has finally arrived, and Apple TV Plus's most popular show looks set to be another critical and commercial success.
Initially created as a set of promos for NBC Sports' coverage of the English Premier League in 2013, Jason Sudeikis was given the opportunity to develop a full sitcom in 2017. Apple has reaped the rewards ever since the show's launch in 2019.
Ted Lasso appeals to many different types of people and, as such, has found its place in a highly competitive streaming market. Appealing to British and North American markets by focusing on the old U.S. soccer stereotype means that the show has transcended a level of popularity that Sudeikis and Apple could ever have imagined.
So how has the success of Ted Lasso helped bring soccer to the mainstream in the United States, and why is this so important with the 2026 FIFA World Cup hosted in North America on the horizon?
Inspiring the future
I remember watching Zodiac when I was all but 12 years old and falling in love with the idea of bringing justice to the world through journalism. Obviously, my career took a slight deviation from investigative journalism and finding Serial killers, but it made me dream of becoming a journalist.
In the same way, for young Americans, seeing Ted Lasso could also inspire some young kids to become soccer players in the future, and that's only a good thing for a sport that is massive worldwide yet so under-appreciated in the world's largest economy.
Soccer is the world's most popular sport, yet the United States hasn't seen the sport reach its peak since the 1994 World Cup on its shores. Since then, a lot has changed, from the rise in Women's soccer, where the United States are four-time world champions, to the increase in U.S. players playing in the top division across Europe, like Christian Pulisic at Chelsea in the English Premier League.
In the UK, however, football is a working-class sport that brings communities together and divides them. We live and breathe the sport and will jump on board with any form of media that captures it, whether that's a documentary like Real Madrid: Until The End or a TV series like Ted Lasso.
The Apple TV Plus original has managed to capture the hearts and minds of Americans through its good-natured main character and witty supporting cast while also pulling in soccer fans from the UK and the rest of Europe looking for the next big soccer TV show.
So what happens when a form of media captures the love of a popular sport and the interest of people who don't watch at all? Mainstream success.
In its two seasons, Ted Lasso has won nine PrimeTime Emmys, helping Apple TV Plus cement itself as the most nominated television distributor in the award's history with 53 nominations in 2022, of which 20 were for the lovable American soccer coach.
The hopes of the U.S. government will be that a successful 2026 tournament for the USMNT will lead to huge growth in men's soccer in the country. If Ted Lasso's widespread success leads to more eyes on soccer as a whole in the U.S., then combined, it's a recipe for dreams.
With the 2026 World Cup in the United States, Canada, and Mexico only four years away and Ted Lasso's story ending after season 3, it would only make sense for U.S. soccer to bring the character back in the build-up to the biggest sporting event on earth.
There could be promos on television in the same vein as the character's original appearances for NBC Sports and billboards across the country to bring together fans of the show and those excited to see a promising young USMNT reach new heights.
It doesn't need to start in a couple of years' time, though. The 2023 Women's World Cup in Australia and New Zealand begins this summer, and the US Women's National Team is favorite to lift the trophy again. Have Ted Lasso get involved here, too, and cast more casual eyes on the sport regardless of the gender of the players.
Television and beyond

Ted Lasso's popularity has led to significant brand crossovers, including the newly launched Nike soccer jerseys and athletic line boasting AFC Richmond's club crest. There's not only sporting equipment; Ted Lasso has its own ice cream at Jeni's Splendid Ice Creams, alongside the inclusion of the entire AFC Richmond squad in the hugely popular soccer video game FIFA 23.
Throughout the 2022 FIFA World Cup in Qatar, messages from Ted popped up on billboards across the United States in the hometowns of each player from the US Men's National Team in a genius marketing campaign that had everyone talking about Ted Lasso.
Just looking at the spread of crossovers between the TV show and beyond highlights that Apple has captured lightning in a bottle, and it doesn't look like it's slowing down anytime soon.
Ted Lasso has become the gateway to conversation for non-soccer fans to interact with those that love the sport. Nowadays, you say you watch or play soccer and are met with the response, "I love Ted Lasso."
As season 3 kicks off, the $500,000 Apple paid for Premier League rights, including logos and archival footage, is starting to show real promise. Nate the Great has become West Ham's First Team Coach. For a club like West Ham, albeit one of London's most prominent soccer teams, the prospect of having its logo and stadium showcased to a worldwide audience will turn eyes to the club. That same U.S. audience will also see the other clubs in the Premier League, which should lead to more and more individuals getting involved with the sport.
Apple TV Plus' headline act continues to prove a commercial and critical success in the most competitive television industry we have ever seen. Time will tell what collaborations await, but if U.S. soccer is to build the sport the way the country wants it to, then Ted Lasso has, by far and away, blown expectations of what a TV show can achieve.
Get more iMore in your inbox!
Our news, reviews, opinions, and easy to follow guides can turn any iPhone owner into an Apple aficionado
John-Anthony Disotto is the How To Editor of iMore, ensuring you can get the most from your Apple products and helping fix things when your technology isn't behaving itself.

Living in Scotland, where he worked for Apple as a technician focused on iOS and iPhone repairs at the Genius Bar, John-Anthony has used the Apple ecosystem for over a decade and prides himself in his ability to complete his Apple Watch activity rings.

John-Anthony has previously worked in editorial for collectable TCG websites and graduated from The University of Strathclyde where he won the Scottish Student Journalism Award for Website of the Year as Editor-in-Chief of his university paper. He is also an avid film geek, having previously written film reviews and received the Edinburgh International Film Festival Student Critics award in 2019.

John-Anthony also loves to tinker with other non-Apple technology and enjoys playing around with game emulation and Linux on his Steam Deck.
In his spare time, John-Anthony can be found watching any sport under the sun from football to darts, taking the term "Lego house" far too literally as he runs out of space to display any more plastic bricks, or chilling on the couch with his French Bulldog, Kermit.