Original iPads now on sale $100 off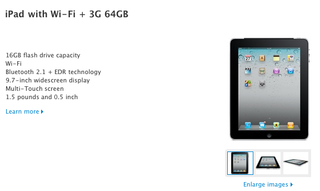 Not convinced by the grandeur and splendor of the iPad 2? You're in luck. Now that the new hotness is coming on March 11th, the old hotness is getting a price break. Here's how the prices now break down:
iPad 16g WiFi Only: $399
iPad 32g WiFi Only: $499
iPad 64g WiFi Only: $599
iPad 16g WiFi + 3G: $529
iPad 32g WiFi + 3G: $629
iPad 64g WiFi + 3G: $729
2010 was the year of the iPad (see the video after
Anybody looking to save some cash and go with first-gen? Oh, and by the way, you can't pre-order the iPad 2 ....yet.
[Apple (opens in new tab) via Engadget]
This just gives me a baseline for selling my first gen. :)

I hope I can pull $400 for my 32GB Wifi with the Apple case. Both the iPad and case are literally like new... I would think I can get $400?! Anyone have any comments?
Also, I'm DEFINITELY getting the iPad 2. The dual core and the other small improvements I believe will make up for some of the first gen's (very minor) downfalls.

Between those prices and the 2 coming out in 9 days Apple just secured the lead in the tablet market for the next year.

As much as I would like the new hotness, I'm thinking about picking up a 1st gen. I've already got an iphone 4, so the whole dual cam thing isn't a deal breaker. I'm also on a budget so saving $100 is very tempting. That is unless some one can convince me otherwise.

Pay the $100 extra for the lighter weight.
Remember that computer you are using right now? Do you wish it was current and fast for today's programs or are you glad that you got a comptuer that was only good for the programs that came out years ago?
This is a no-brainer. Pay the $100 for the latest and best. Developers will take advantage of the new features and you will be left wishing.
Besides that, you will make the $100 back if/when you need to resell it.

What about rebates for people who recently bought Ipad 1's like they did for the iPhone when they dropped the price?

If you are on TIPB, why did you recently buy an iPad knowing that it was around the corner?

Well, because, unfortunately, TiPB doesn't get to dictate when I NEED to have things. I'm part of a team that's driving across the country for work next week. It's the easiest way to stay connected to the office and maintain documents, etc while I'm on the road. Being able to load it up with movies doesn't hurt either.
You wont even be able to place an order by the time I head out since orders don't start until the 11th. So it was buy an iPad to use for the trip, when I needed it, or don't buy one at all. In other words, if it weren't for the trip, I wouldn't have bought one.
Now, since we're all done being smart-a$$ed Apple fanboys, back to my original question. What are the chances of Apple offering a rebate to people who recently bought iPad 1's. My guess is slim to none, supported by the fact I haven't heard anything about it. Is there any word that I maybe haven't heard?

ummm.. first apple doesnt owe u anything, second "no", your not getting a rebate, third, when you buy a computer right before a new model comes out, do you get a rebate? nope. moron

Seriously?
Did you just call me a moron?
You are exactly why I hate apple people.
Way to be constructive, dick.

uh oh! we have a tough talking third grader in the house (yes, you Jb.)
he never said apple "owes him anything," he just asked a simple, logical question, since apple had done this in the past with iPhones. In fact, he said that he acknowledges the fact that apple probably won't offer a rebate, but he was curious to ask other apple insiders if they had heard of anything.
there's literally zero need to call people a moron because they asked a question, it just makes you look childish

And, by the way, Apple has done it before.

Apple does let you return & rebuy if you purchase an old model within a certain time frame of the new product release. don't be a jerk JB.

When put it that way.....

I have a first gen iPad in like new condition with all the original packaging. Also, with the original Apple iPad cover. It is 16GB, wifi + 3G. If Apple is selling at $529, I think I would be willing to sell mine for $429.

Way to knock the resell price down for ebay sellers.

thats why you have to sell before the announcement. i sell my iphone each year a few weeks before the official word from apple, once they introduce the new model, ebay prices go down. Im gonna sell my ip4 soon and get more than the 500 its gonna cost for the 5.

Apple wants money. eBay used sellers cut into their profits.

I have an iPad 32+3G with Otterbox case. I'll sell mine for $800. It is personally signed by me and is one of a kind. The signature along is worth the $800.
For real though. The name I use does not give any hint as to who I am, but nor does the site or DNS... but trust me.

If u are Charlie Sheen, I'll buy it :)

What's up with the no Pre-Order? They did pre-order for the original iPad right?

It's pointless to buy the iPad 1 when iPad 2 comes out in less than 9 days. If only I had money, I would buy the iPad 2 come March 11th.

My company is jumping on this special pricing. They recently purchased 5 iPads for upper management to 'test' to see if it is a viable business tool for our sales force. Now they are picking up 6 more 16GB WiFi for the regional managers at the $399 price. They will add a MiFi for each one from Verizon so $448 for a iPad running on a 3G network is pretty sweet deal.

Work thats what I was thinking! I want to convince my co-owner that we need a few of these!

Take that Xoom and you upstart competitors! This just undercut everyone. Even without a Retina display, stereo speakers, or real GPS, and probably only a 2MP rear camera, the competition is quaking in their shoes!

I don't think they dropped the price enough. Maybe $200 across the board. Possible that Apple doesn't have that many first gen's to sell?? If you do want the iPad first gen (and I do), I'll wait a while. Just like the 3GS that started at $99.00 only to go to $49.00 a short time later, I see this doing the same. Now, if you could get a 64gb for the price of a 16gb, we'd have something. Right now, they need that price point, since they need people to think about that $100 diff. Once they start selling, and the first gen's stop, they will move on the prices on those.

Any ideas why we can't preorder? I don't mind waiting until the 25th to receive my iPad, but I just want the transaction to be over with :P

I got an iPad 16gb-3G for £99 from Orange UK last week and added some data to an existing iPhone plan & I'm really happy with the deal. Knew iPad2 was due but but went for the deal. Missed iPhone4 due to contract cycle but will get iphone5, hard to always have the latest kit but deals plus contract on iPad Original well worth a look in my opinion.

Well I have two the Ipad1 and Iam most definitely going to get the Ipad2! I'll just remand the one of 1G to the car as of right now it acts as a head unit for my STS-V and now i'll go ahead and custom mold the dash for the 1G ! The other will stay at home for my Control 4 home automation stuff and other home theater apps( xbmc and savant). As for the 2G Ipad I'll use it for my day to day stuff like XtraFolio for my photography portfolio, and my contract apps like Easy Release, Contract Maker Pro and my other daily use apps...E*trade,Gilt,Paypal and Zinio!

In Australia apple have dropped the iPads, the iPad 16g wifi is now $180.00 cheaper, apple have not revealed the price of the iPad 2 yet, due to a strong aussie dollar could the price of the iPad 2 be reduced, it was $629.00 we will see.

Politico lawmakers on Tues stalled a Senate measure to estimate children of undocumented immigrants to get on a line to citizenship,

I want an iPad 2 even no I have an i touch apple is the best
P.s I'm getting an iPad 2 soon yaaaaay

Apple is THE BEST!!!!!!!!!!!!!!!!!!!!!!!!!!!!!!!!!!!!!!!!!!

Would be interesting to see prices of used iPads fall as well as the older varieties. Plus I'm sure the iPad 2 will follow suit as well from looking around like here http://www.pcmag.com/article2/0,2817,2370136,00.asp http://usedipads4sale.com/

Fantastic site. Lots of helpful information here. I am sending it to several buddies ans also sharing in delicious. And of course, thanks on your effort!
Thank you for signing up to iMore. You will receive a verification email shortly.
There was a problem. Please refresh the page and try again.