Pad & Quill is hosting a Valentine's Day Sale with up to 40% off sitewide. Many items are already reduced by 25% and using coupon code VALENTINE saves you 15% extra off cases, wallets, backpacks, Apple Watch bands, and more. This sale is only around for a limited time and shipping is free on most orders.
Classy gifts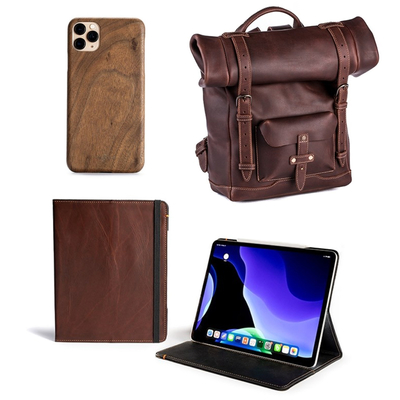 Pad & Quill Sitewide Sale
Whether you want to treat your loved one (or yourself) to a new phone case, Apple Watch band, iPad cover, or a fancy duffel bag, you can save big with this sale. Many items are up to 25% off already and the below code takes a further 15% off.
Up to 40% off
There are tons of accessories for Apple devices in the sale. Take the stunning Oxford Leather iPad Pro 11-inch case, for example. It goes for $120 when not on sale but is available for just $66.68 thanks to a price drop and to $78.45 and that code taking a further $12 off. The Lowry Cuff Edition Apple Watch Band sees a similar discount, falling to just $67.97. Other tech essentials like a travel cord organizer, iPhone cases, and MacBook covers are all also discounted.
Outside of straight tech purchases, there are other lifestyle accessories on sale worth perusing. Go all out with almost $110 off the Heritage Leather Men's Satchel Bag while you can or pick up something smaller like the Minimalist Leather Wallet. It originally sold for $50, but today's code drops it from a sale price of $37.95 down to $32.26 shipped. It's available in two different colors and it has great reviews. This minimalist wallet holds up to five cards as well as cash. Made of full-grain leather, the parachute-grade stitching withstands the test of time while the rounded corners ensure a slim pocket silhouette. If you hate bulky pockets, this wallet should do the trick.
The sale is only running for a limited time so be sure to place an order for something you or your loved one will aprreciate this Valentine's Day. Many items are backed by money-back promises and the leather used is backed by a 10- to 25-year guarantee in some cases.
We may earn a commission for purchases using our links. Learn more.