The Perfect Nintendo Switch Car Kit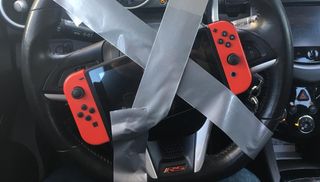 We are deep in the heart of the holiday season and for many of us that means loading up the family truckster and making the long drive to visit cousin Eddie or whatever cousin Eddie analog you have in your life. Now, the long and grueling drive to visit family members you only see once a year can be a chore or you can look at it as an opportunity to get some serious gaming done. Or, perhaps you're the one doing the driving and you would love to have the kids in the back be a little quieter for a few hundred miles.
No matter your road trip situation, Nintendo has made a rip-roaring grab and go console with the Switch. If you're going to be grabbing and going in the car, you're going to need to be prepared. Let's take a look at a few of the essentials for a Nintendo Switch car kit.
Mount up!
If you're like me then you went ahead and spent a little extra to buy a car that came with seats. And if you have seats you have a great place to mount your Switch. With this seat mount by Tryone you will no longer have to live in a world of sore necks from staring down at your lap during a long road trip. Keep your chin up and game on!
Charge up!
If you're in the middle of a nine-hour road trip you certainly want to keep your stops to a minimum. Pulling over just to charge a dying Switch just seems downright silly. There IS a better way! With officially Nintendo licensed high-speed car charger by HORI all you need a cigarette lighter and a dream… A dream to keep playing Zelda for four more hours.
Hook up!
When you get to your destination it's entirely possible that you're going to want to commandeer a television to get your game on or to show off your new Switch to your distant fam. unfortunately, hauling around the full-size Switch dock is a cumbersome proposition. Lucky for you a solution is out there and it's reasonably priced. Pick up this Switch hdmi type C hub adapter and you will have all the same functionality as the original hub with a much smaller footprint.
Pack up!
So now you have an arm-load of accessories, cables, controllers, and whatnot. Managing all this stuff can get to be a pain in a real big hurry if you don't have an effective way to organize it all. Good thing there is this awesome Nintendo licensed backpack by PDP. There are more than enough pockets to store your Switch and whatever accessories you might need. There is also enough room to throw a laptop in there should you feel the need. It also doesn't hurt matters that it's a pretty darn good looking bag.
Your holiday road trip plans?
Now that you have everything you need to hit the road with your Switch you're bound to have an even happier holiday. The only thing you're going to have to deal with now is finding it in your heart to share your beloved Switch with your weird cousin Eddie.
Master your iPhone in minutes
iMore offers spot-on advice and guidance from our team of experts, with decades of Apple device experience to lean on. Learn more with iMore!