A good Lightning cable is hard to come by. Everyone's experienced cables that fray, bend, warp, or simply don't measure up in one way or another. It doesn't help if you're like me and tend to misplace your charging cables shortly after purchasing them. Need a new Lightning cable or four? You can use code XCENTZ264 during checkout at Amazon to get this well-rated Xcentz 10-Foot MFi-Certified Lightning Cable for only $9.99. That's nearly 30% off the normal cost as well a match of the best deal we've shared for this particular cable. The code is valid on the silver and blue versions. You'll get free shipping by spending at least $25 or by using Amazon Prime.
Daily Driver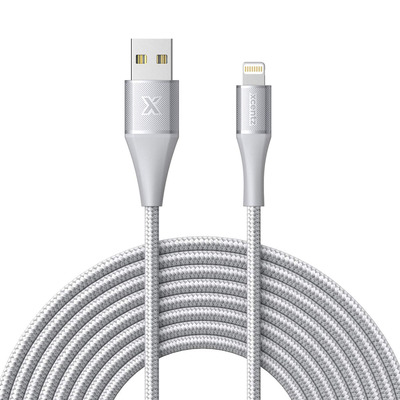 Xcentz 10-foot MFi-Certified Lightning Cable
This well-rated cable is MFi-certified and extremely durable. So durable, in fact, that it's backed by a lifetime guarantee. Reviews are positive and today's price makes purchasing an easy decision.
$9.99 $13.99 $4 off
This cable resists fraying and warping thanks to its double-braided nylon exterior. It's rated to withstand over 30,000 bends. The MFi certification means it'll play well with all iOS devices too. It has incredible tensile strength, great customer reviews, and a lifetime guarantee. The fact that it's ten feet long is the icing on the cake. No more uncomfortable sitting positions or straining to use your phone while you're in bed. This cable is long enough that you could keep it permanently plugged into that awkward AC outlet behind your couch or on the opposite end of your office, putting unused receptacles to better use.
Note that the cable doesn't come with any sort of adapter. Luckily, you can save on an Xcentz Car Charger as well as an Xcentz Portable Power Bank right now. The colors of the discounted items can even coordinate with the cable you pick up for matchy-matchy goodness. Alternatively, if you're fed up with using cables to charge your phone, you might want to check out this wireless charger deal. Like most pricing promotions, these are all only around for a limited time, so keep that in mind if you're interested.
We may earn a commission for purchases using our links. Learn more.