Whether you're planning a ski trip or you'll be snorkeling sometime soon, one of the easiest ways to record your adventures is with an action camera. Cutting edge models like the GoPro HERO8 cost as much as $400, but you can often find something that will do the trick for much less money. The Victure 1080p Action Camera is a perfectly capable gadget, and while it doesn't have quite as many features as a top-of-the-line model would, it won't cost you $400. In fact, it won't even cost you its usual $36 price tag today. Enter coupon code 4E5HXKTF during checkout at Amazon to drop the price down to just $17.99. That's the best deal we've seen yet for this handy little device, and for less than $20, it's a smart buy no matter where you're headed.
Up for an adventure?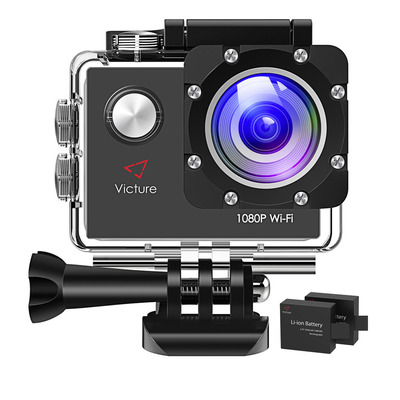 Victure 1080p Action Camera
Enter the coupon code to drop the camera's price down to lower than we've ever seen before. It can take 1080p videos and 12MP photos, even underwater. The large LCD screen makes it easy for you to see what's going on.
$17.99 $35.99 $18 off
This highly-rated action camera can capture 1080p video as well as 12MP photos. The 170-degree wide-angle lens records more of what's going on, while the 2-inch LCD display allows you to adjust the camera on-the-fly to ensure you're recording what you want. The built-in Wi-Fi works in conjunction with a free app for iOS and Android devices. Once installed, you can use the app to play the videos and photos back, share them to social media, and more. The camera features HDMI, USB, and FPV modes, among others, giving you more connectivity options.
The camera can withstand extreme conditions, too. The included IP68 case allows you to record up to 30 meters underwater, so you can go snorkeling or surfing and take your new gadget along for the ride. Your purchase also includes a ton of accessories, like bike mounts, helmet attachments, and more.
We may earn a commission for purchases using our links. Learn more.