Razer unveils the dual-screen Nabu Watch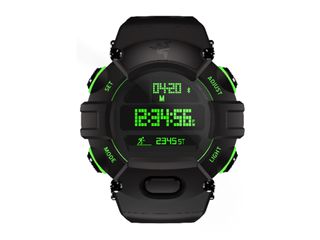 Razer, a company typically known for its gaming accessories, has unveiled the new Nabu Watch at CES 2016. Razer's entry into the smartwatch market interfaces with a companion iPhone app, allowing users to screen notifications, along with tracking fitness metrics and sleep activity.
The Razer Nabu Watch features an interesting circular display that looks to be split into three sections for viewing the time, scrolling through notifications, tracking fitness data, and more. One of the more interesting features of the watch is its watch-to-watch capability, which enables quick transfer of information between two users. For example, two Nabu users can shake hands to instantly exchange Facebook and Twitter info.
Razer says that the watch sports 12 months of battery life on its main screen, thanks to a coin cell battery. Meanwhile, a secondary screen for displaying notifications and tracking fitness data carries 7 days of life on a rechargeable lithium polymer battery. It's an interesting mix of components, to be sure.
The base Razer Nabu Watch will be available in late January worldwide for $149. Meanwhile the Razer Nabu Watch Forged Edition, which features stainless steel buttons and a "premium" black finish, is currently available exclusively from Razer for $200. If you're interested, you can grab the Forged Edition now from the link below.
Razer Nabu Watch Forged Edition / $200 (opens in new tab)
Source: Razer (opens in new tab)
Hello 1980! Sent from the iMore App
Thank you for signing up to iMore. You will receive a verification email shortly.
There was a problem. Please refresh the page and try again.