Retina iMac priced at $2499, begins shipping today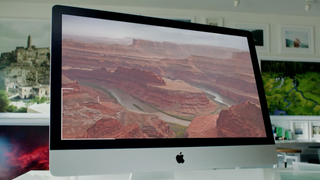 (Image credit: iMore)
The all new, 5k Retina iMac if officially official and can be all yours, starting at $2499. Of course if you want bigger and better, it will run you quite a bit more than the base price. It's packing a ton of awesomeness, including a 5120x2880 resolution display, 1TB fusion drive, 8GB of RAM and a 3.5 GHz Intel Core i5 CPU (which is upgradeable) — so it's no slouch when it comes to the desktop space.
It will ship with OSX Yosemite (which is free to everyone starting today) and is available to purchase from Apple.com (opens in new tab).
Get the best of iMore in your inbox, every day!
Editorial Director - High Yield
Getting his start writing about BlackBerry in 2008, Adam is the Editorial Director of High-Yield content at Future. Leading an outstanding team, he oversees many of the articles the publisher produces about subscriptions and services – VPN, TV streaming, and antivirus software. From buying guides and how to watch content, to deal news and in-depth reviews. Adam's work can be seen on numerous Future brands including TechRadar, Tom's Guide, T3, TTR, Android Central, iMore, and Real Homes.
Wow!!!, with a price tag like that it better do more for me than compute?? Sent from the iMore App

I don't think this thing is for the average Joe. I would have liked to have seen a spec bump and maybe a smaller "retina" bump to the screen (I'm not sure what the pixel count is on current models) because I am in the market for one. I don't think I'll be pulling the trigger on this.