Ring wants to help you keep your home secure with the Stick Up Cam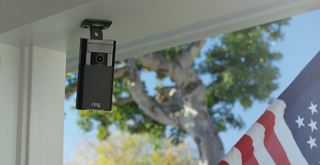 Following up on its Wifi-connected doorbell, Ring has debuted the new Stick Up Cam, an easily-mountable outdoor security camera that can be placed practically anywhere. In addition to delivering HD video from outside of your home or office sans wires, the $199 Ring Stick Up Cam features a microphone and speaker combination so you can communicate with anyone that may be suspiciously hanging out outside.
And just like Ring's Video Doorbell, the camera on the Stick Up Cam features motion detection and night vision with the ability to alert you to any activity it detects with a notification on your smartphone.
Our sister site, Android Central, previously reviewed the setup process for the Ring Video Doorbell, and found it to be a relatively simple process. The Stick Up Cam continues that tradition, only requiring that you mount its bracket with a set of 4 screws, then literally "stick" the camera onto the mount and swivel it to your desired angle.
If you're interested in checking out the Ring Stick Up Cam, it can be pre-ordered now from Ring's website for $199 at the link below. And be sure to continue following all of our CES 2016 coverage as the show continues.
Brilliantly simple to take the doorbell (I have one), remove the ring mechanic, and make it a security camera. However I wonder about video on demand. And also if there's any development for HomeKit in Ring's devices (although I'm not sure how that would look).
Get the best of iMore in in your inbox, every day!
Thank you for signing up to iMore. You will receive a verification email shortly.
There was a problem. Please refresh the page and try again.