Rogers to offer iPad 2 plans, iOS 4.3 personal hotspot free on 1GB+ data plans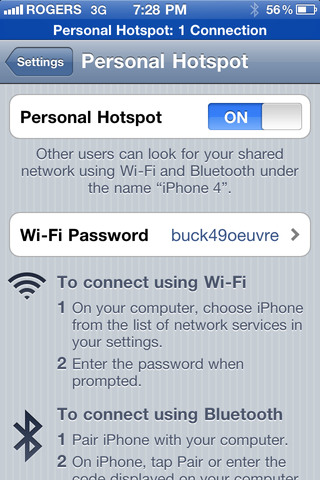 AT&T isn't the only one confirming iOS 4.3 personal hotspot support, with Rogers (and subsidiary Fido) also letting us know their plans -- and keeping it free!
That's great for iPhone 4 users, but what about iPad 2? Same deal as the original iPad with 250MB for $15 or 5GB for $35 (or you can use their data sharing but they aren't great value for the $30 surcharge).
So great news for personal hotspot, good news for iPad 2!
[Rogers Red Board, personal hotspot]
Get the best of iMore in your inbox, every day!
Senior Editor at iMore and a practicing therapist specializing in stress and anxiety. She speaks everywhere from conferences to corporations, co-host of Vector and Isometric podcasts, follow her on Twitter @Georgia_Dow and check out her series at anxiety-videos.com.
to bad att gouges like no other. 45 bucks for 4 gigs a month and id have to lose my unlimited.
horrid

Are you serious?! That just really pisses me off!

AT&T and verizon suck so much, I wish we had rodgers in America.

I think that your article is a little confusing. Won't we be able to use the hotspot from our iPhone and link our iPad or iPad2 to it to use the 3g?

Good on Rogers. I would love to have the option if it didn't cost more money. I don't see myself using it frequently. I may give the jailbreak app a try instead.

Yippy!!!
Now I can get rid of my Rogers Mobile Rocket, this update is actually going to save me $20/mth. I have a 6GB data plan for my iPhone.
I was going to skip this update because I just, for the first time, Jailbroke my phone and have set it up "just right". I now need to search TiPb to learn how to update the O.S. then get my Jailbreak aps and settings back (when a JB for 4.3 comes out).

Rogers' network is useless anyway. So they can give everybody everything for free!

I don't agree with the data sharing value statement. I just switched from 500MB for $30 to sharing my 6GB for the same money. Sound like a win to me.

I wonder if anyone has had this problem I use a wi-fi hotspot with rogers and would tether my cpu through it. But I've just done the update at home and once I tether my cpu it jumps from my home wi-fi to the 3G I'm thinking this is a win win for rogers now they will have more people using there slow data.

hey there and thank you for the information you have : I've absolutely picked up something new through here. I nonetheless discovered a few techie issues using this blog. I have been thinking about if your website hosting is alright? Not that I am filing a complaint, however poor loading times will likely affect your placement in yahoo and can damage your top quality articles here. Anyway I am adding your Feed to my personal feed reader and will look out for even more of your helpful posts..

It helps if you put the HTML source code of your page resulting from deactivated Booster on, Added automatic thumb picker for rich web pages

Amazing things here. I am very happy to look your post. Thanks so much and I'm having a look ahead to touch you. Will you please drop me a e-mail?