Rumor: Apple planning to double battery capacity in iPad 3, January release [Update]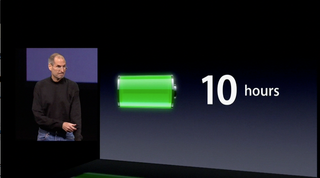 Hit-or-miss rumor site Digitimes is reporting that Apple plans on doubling the size of the battery in the the iPad 3, and moreover, that Apple will release it as soon as next month.
As always, take these rumors with a Macworld|iWorld expo sized grain of salt. Digitimes' "sources" also mentioned that Apple will debut two separate models of the iPad, one for the high-end market and the other filling in the mid-range segment. While 7-inch iPad persist, keeping the iPad 2 around the way the previous year's iPhone is usually kept around could be another alternative.
As to a January launch, that feels more like a rumor designed to hurt current iPad sales than anything fitting Apple's previous release patterns. Curious how those keep popping up, isn't it?
UPDATE: Jim Dalrymple from The Loop, whose sources are excellent, says there's nothing to see here. No iPad 3 at Macworld or CES, and no Apple Televisions either. [The Loop]
Source: Digitimes
Andrew Wray is a Salt Lake City, Utah based writer who focuses on news, how-tos, and jailbreak. Andrew also enjoys running, spending time with his daughter, and jamming out on his guitar. He works in a management position for Unisys Technical Services, a subsidiary of Unisys Corporation.
How bout a "grain of mustard seed" for a change no?

Oh god. that alone would force me to upgrade from Dos!

Although I would like the increase in the already very long lasting iPad 2 battery, I don't believe Apple will be debuting two different 2012 iPad 3 models. A very similiar rumor was floating around on the digital airwaves about the rumored iPhone 5 - that there would be an iPhone 5 and a smaller and cheaper iPhone 4. It never happened. We got the iPhone 4S. Since Apple seems to always, if not mostly, upgrade thier existing models and sell them as iPod X, iPhone X, and iPad X it seems reasonable to conclude that the battery enhancement rumor may hold some water. Albeit, Mustn't we forget that Steve Jobs, RIP, is no longer running Apple, unfortunately. So with that fact in mind it appears there's no distinct way of predicting in which direction Apple Inc. will be heading and whether it will last under the new leadership of Tim Cook.

It amazes me that any rumor, however founded always ends up on this site, and always with the 'punch if salt' opt out clause. I can't imagine what would need to be on offer from ipad3 to be worth upgrading. The battery on my ipad2 lasts for ever.

Wish they would concentrate on fixing the bugs in IOS5 first, or atleast let people downgrade back to IOS4 until they do.

Do you believe that the same team deals with hardware & software because I don't

Ive said it before and I'll say it again:
If Apple is the first to break out new battery tech in their devices, they are going to hold the spotlight in the tech world for another 5 years. This is the one area that ALL mobile devices lack in. There hasn't been advancements in a long time.
If Apple were to double capacity and keep it thin. It would game over for everyone else.

iPad 1 - Announced January 2010, Released April 2010
iPad 2 - Announced March 2011, Released March 2011
doesn't take a crystal ball to figure out the general pattern (March/April 2012)

Yeah Timmy go for it! I'm holding out for iPad 3 hoping it has retina display and a better battery!

Both new releases are rumored to have retina display with great resolution and both 8 and 5 megapixel cameras: http://bit.ly/vsfWk4
Get the best of iMore in in your inbox, every day!
Thank you for signing up to iMore. You will receive a verification email shortly.
There was a problem. Please refresh the page and try again.