Rumor: Next iPad to come with HD FaceTime, Retina display, 8MP rear camera, iPad 2 drops to $399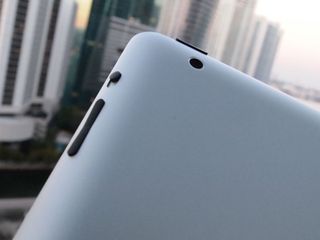 Jeremy Horwitz from iLounge has posted rumors about the iPad 3 and what his sources say we should expect.
Some of the included were upgraded front and rear cameras with HD FaceTime on the front and an 8MP sensor on the rear. His sources believe the rear camera may in fact be the same as the iPhone 4S.
Horwitz, who has had good information in the past, also dispels rumors of the next iPad hitting in January or February, and instead suggested it will follow the same March/April release cycle the iPad has been on since it debuted in 2010, and that the iPad 2 will stick around at an entry-level price of $399.
Get the best of iMore in in your inbox, every day!
Andrew Wray is a Salt Lake City, Utah based writer who focuses on news, how-tos, and jailbreak. Andrew also enjoys running, spending time with his daughter, and jamming out on his guitar. He works in a management position for Unisys Technical Services, a subsidiary of Unisys Corporation.
I like the idea of an upgraded camera and such; but since Photo Stream has been around, I never use the rear camera on my iPad 2 for taking still shots. iPad 3 sounds like a skip to me.

IronReviewer on October 20, 2011 21 bucaese it has a mix of adventure, skill, entertainment, and romance. Great movie that could be a great game!

I wish it had better cameras to begin with, I took some cute pictures with the front facing camera that would have been so much better with a better camera.

I bet the IPad 1 will drop to $299

Some of the furteaes that I'm really looking forward to are the face time feature and the new camera system. If I do get a new iPhone, I'd definitely want to shoot some videos and edit them straight from the phone. Plus, this is coming out on my birthday, maybe i should get this for myself

Don't care about the cameras, but must have retina display for me to consider upgrading from my iPad 2.

Apple rumors are most of the time the most grossly over exaggerated things on the Internet, probably because people still for some reason think that Apple will give them what they want. Didn't the iPhone in 2011 just barely get the ability for custom ringtones? 8mp camera on an iPad that Apple says is not meant to be used as a regular camera (because of the iPad's size) when the 4S just barely get an 8mp? Um... sorry people, but I'd bet my life that's not happening. In fact, the best the iPad 3 will get is a 3MP camera just because Apple has no reason to jump from a measly 1.3 to an 8. They spoon feed updates all the time. So, expect 3... MAYBE 5... but my money is on 3 at the biggest.

Well if this holds true one thing is a bummer..... Timing. I want to get a 2 for my wife's birthday in feb. sure would like the discount. And 14 day price protection is not enough (bd is in the 10th).

I just got an iPad2 16gb wifi model , I have till this coming sunday before I am past the 14 day return policy from Wal-Mart.
If I return it now, wait 2 months I can repurchase the iPad2 for $400, or get the iPad3 at $500
waiting a month or 2 to save $100
Or should I just be happy with what I got and keep loving my wonderful ipad2 I have now. Its a giant iPhone, but thats why I love it.

Just because some words of the iPad successor is coming around the corner doesn't mean everyone should stop buying iPad 2s. I would love to see retina display on this large screen but I'm happy with what I got now.

rubs hands together Can't wait!

Anyway, you have in fact cgnahed your argument. You have just now started with the whole Sales make a smart phone better then others argument.

Queen Ends... Foreverwww.musicwillchangeforever.com
Thank you for signing up to iMore. You will receive a verification email shortly.
There was a problem. Please refresh the page and try again.