Samsung's Smart Window doesn't run iOS but it's still pretty awesome!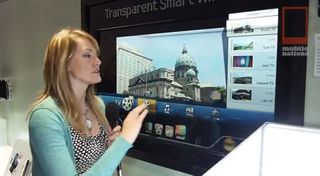 Samsung's Smart Window doesn't run iOS but it's still pretty awesome! Soon, we shall be living in the world of Minority Report, and this "Smart Window" technology Samsung has at CES 2012 is going to help us get there. Ashley Esqueda checks out what's happening over at the Samsung booth and gives a little demo of the window.
Get the best of iMore in in your inbox, every day!
Editor-at-Large at Mobile Nations, gadget junkie, energy drinker, ranter.
I'm buying stock in companies that make screen cleaners starting today. Smudge City here we come!

Ashley is quite the hottie...

Ha! I won't be buying one anytime soon!

If you were to get one, would you actually replace one of your current windows in your house? If so, which one?

Oh, look, the future finally showed up.

is it just me or is that a no touch sign underneath?? tut tut lady!!

Return of The King... Foreverwww.musicwillchangeforever.com

This might not be the best place to inquire about this, but I'm looking for a pest control company inside the pittsburgh area and have no method to find out who is the most effective. I found this company that's really close to me and wished to see if any person has any testimonials on them. Spectrum Pest Control, 3058 West Liberty Avenue, Dormont, PA 15216 - (412) 446-2802
Thank you for signing up to iMore. You will receive a verification email shortly.
There was a problem. Please refresh the page and try again.