Having an external battery on hand is always a good idea, but what happens when you're in the middle of the woods on a hike, your phone is dead, and you forgot to charge your power bank? If you're the proud owner of a Ravpower 20000mAh Solar Power Bank, you pop it in the sun for a while and you're good to go. Otherwise, I'm not sure. Maybe you ask Bigfoot if you can use one of his outlets.
The Ravpower 20000mAh Solar Power Bank usually costs $40, which is a bit pricey for that capacity. However, today at Amazon, you can add it to your cart via this link, then clip the coupon that appears in your cart. The total will drop down to $25.99 automatically during checkout. That's nearly 40% off the typical cost, and you'll be just over the threshold to get free shipping as well. You can choose from either Black or Orange.
Charge It Up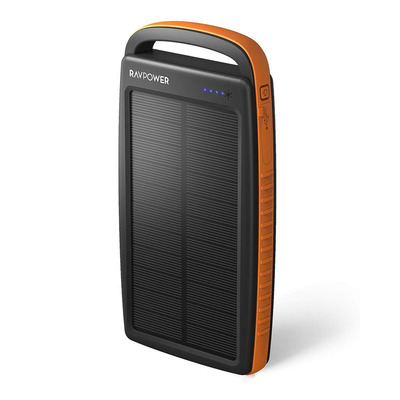 Ravpower 20000mAh Portable Solar Charger
Add the item to your cart via our link and then clip the coupon in your cart to get today's excellent price. These power banks harness the sun to provide power via its two USB ports.
$25.99 $39.99 $14 off
This durable and sturdy charger is built to be rugged, with rubberized edges and IPX4 water resistance. It features two 2.4A USB ports and a built-in flashlight to help you see or be seen more clearly. There are also built-in safeguards to protect your phone from overcharging, short-circuiting, and other nonideal situations. Note that it takes quite a long time to fully recharge this using only the sun. About a week, in fact, However, a few hours in the sun should get you enough juice to help in case of emergencies, and when you're at home, just plug it into a wall and it'll be fully charged in about eight hours. Some reviewers say the power bank is a bit heavy, so you'll likely want to stash it in your daypack rather than in your pocket.
We may earn a commission for purchases using our links. Learn more.