Nomad's Warehouse Sale is now live, giving you the chance to save 30% on a selection of high-quality accessories for your Apple devices. Whether you're in need of a new iPhone case, a spiffy Apple Watch band, or maybe a rugged, leather case for your AirPods, you'll score 30% off the price shown by using promo code TAKE30 during checkout.
Don't Miss Out!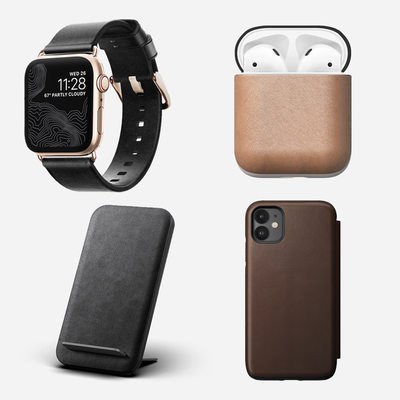 Nomad's Warehouse Sale is taking 30% off a variety of Apple accessories, from Apple Watch bands to cases for iPhone and AirPods, charging cables, wireless chargers, and more. Just be sure to use the following promo code during checkout to save.
Prices Vary
This week's sale at Nomad covers a range of Apple essentials, from cases to charging cables and more. You could save 30% on Nomad's line of Modern Strap Apple Watch bands. Choose between gold or black tanned leather options for just $48.97 with the code above, and in the process you'll be saving just over $20 off the usual price of $70. Meanwhile, if you have a pair of AirPods, you could grab a case to match your Apple Watch band for only $20.97 today using the code. This rugged leather case can fit either the regular AirPods charging case or the one which allows for wireless charging. There are a few other Apple Watch and AirPods accessories in the sale, too.
One of the more unique options in Nomad's sale today is this USB-A to Lightning Carabiner. It's a durable carabiner which also has a hidden, USB-A to Lightning cable built-in that you can use to charge your phone while traveling. Though it's normally sold for $35, today's sale drops its price down to $25 and saves you $10 instantly.
Cases for iPhone models such as the iPhone 11, iPhone 11 Pro, and iPhone 11 Pro Max, as well as iPhone XS, iPhone XR, and iPhone XS Max are included in the sale. You're in luck if you're the owner of the older model, as Nomad's cases fall to just $13.97 using the promo code above. The iPhone 11 cases are on sale for $55.97 with the code.
Be sure to visit Nomad and check out the full Warehouse Sale before anything has the chance to sell out.