The AirPods and other wireless headphones are great to have until you come across a device that doesn't offer Bluetooth functionality. Whether you're taking a flight, running on the treadmill at the gym, or even gaming with the Nintendo Switch, there are still too many scenarios where your Bluetooth headphones are blocked from use. That is, until you pick up the Twelve South AirFly. This wireless Bluetooth transmitter is on sale for only $27 at Amazon as part of Twelve South's Black Friday sale, marking the lowest price in its history. When not on sale, it can be found priced as high as $45.
Wireless wonder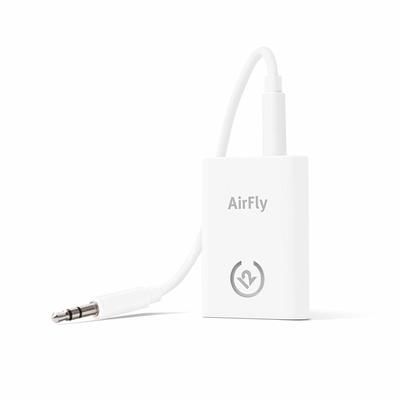 The AirFly lets you connect wireless headphones to wired headphone jacks via Bluetooth. That means you can easily use your headphones with otherwise incompatible devices like in-flight entertainment systems, gym TVs, and even the Nintendo Switch.
$27.00 $44.99 $18 off
The AirFly lets you connect wireless headphones to wired headphone jacks using Bluetooth technology. It will work with any wireless headphones, from AirPods to Beats, AUKEY, SoundPEATS, and more. That means you can listen to everything from in-flight entertainment to your gym's TVs to your Switch. No more relying on the grubby complimentary airplane headphones or your subpar backup pair! It features Bluetooth 4.1, along with audio codec support for aptX Low Latency, aptX, and SBC Audio. It's extremely easy to pair with too.
Boasting an 8-hour battery life and a tiny footprint, the AirFly will change the way you consume audio without adding a ton of bulk to your daily carry. We gave it 4.5 out of 5 stars in our in-depth AirFly review and Amazon buyers also rate it highly. If you are buying it for use with a Switch console, you may also want to take a look at our list of the best Nintendo Switch accessories in 2019 for other essentials.
Twelve South is offering a number of other tech accessories on sale at its Amazon Store for Black Friday, so be sure to have a browse and score a saving before things start to sell out.
We may earn a commission for purchases using our links. Learn more.