Siri "Eyes Free" mode coming to 2014 BMWs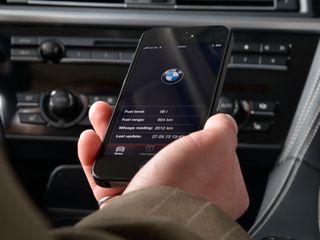 BMW announced this week that 2014 models equipped with its iDrive 4.2 interface will include Siri Hands Free mode, making it possible to pair an iPhone with your car and use Siri without ever taking your hands off the wheel.
iDrive already includes voice commands, but by pressing and holding the steering wheel-mounted voice command button, you can use Siri instead.
Apple isn't the only one to receive iDrive integration, either - BMW notes that Samsung's SVoice control is also supported.
BMW also notes support in 2014 models for iPod Accessory Protocol (iAP). As a result, users won't need a USB connection to their iPhone or iPod to browse and select music using the BMW controller - it'll work over Bluetooth as well.
Still waiting for our 2013 model to support an iPhone 5....

Question: Siri seems very polarizing, is it a good idea to put it in a car? The last four times I used it Siri for navigation it was worse than no help at all. Comically wrong, and computer-stubborn when I try to rephrase, correct or redirect my navigation queries.
Get the best of iMore in in your inbox, every day!
Thank you for signing up to iMore. You will receive a verification email shortly.
There was a problem. Please refresh the page and try again.