Siri guest stars on CBS's Big Bang Theory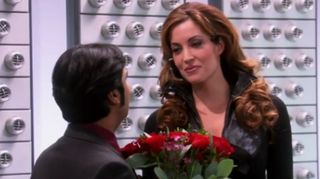 In the latest episode of CBS's "The Big Bang Theory" titled "Beta Test Initiation", Raj Koothrappali starts a relationship with a well-known woman - Siri.
After buying an iPhone 4S, Raj starts building a creepy relationship with Siri - taking her out for coffee, inviting her on double dates, and even dressing her, in "a nice black case".
If you are a fan of the show, you'll know that one of Raj's personality traits is that he has difficulty talking to women, so when Siri makes a human appearance, hilarity ensues.
You can check out the clip of humanised Siri below, but be sure to watch the full episode on CBS (opens in new tab).
Writer for iMore, YouTube Vlogger, and Host for [TEChBrits]
OMG it was so funny. If you missed it go to CBS.com and watch it. Even if you are not a fan of the show, it is a must see.

I couldn't stop laughing at this episode.

I watch that show all the time and I was glued to it last night. Funny thing is this actress is exactly as I'd imagine Siri to be. LOL!!! AWESOME!!!

actress is Becky O'Donahue. She's done some Maxim shooting. I think she has a twin sister with whom she auditioned for American Idol many years ago.

the actress nailed siri's voice....soooo sexy!!!

This was a great episode, thank you for posting the clip. My dvr missed the last min.

Ironic: On a site about iPhones, pages with video clips dont always work in mobile safari. You cant reaize or reorient the page to get at the video either. I wonder if the video was pulled?

Thanks for the auspicious writeup. It in truth used to be a enjoyment account it. Look advanced to more added agreeable from you! By the way, how can we communicate?

hi!,I love your writing so so much! percentage we keep in touch extra approximately your post on AOL? I require an expert on this space to resolve my problem. May be that's you! Taking a look ahead to peer you.
Get the best of iMore in in your inbox, every day!
Thank you for signing up to iMore. You will receive a verification email shortly.
There was a problem. Please refresh the page and try again.