Future Apple HomePods could have a camera, but not for the reason you'd expect
Advanced camera systems in HomePods could make controlling smart home devices much easier.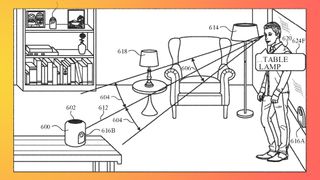 (Image credit: Apple)
Apple may be considering equipping future HomePod smart speakers with cameras — but not for the reasons you may initially think.
Patent application 1619991 has been granted by the United States Patent Office, and describes a next-gen HomePod-like product that controls smart home devices and accepts voice command input, presumably to the Siri assistant. However, rather than the camera being used for video calling over FaceTime or for in-the-home security purposes, it's instead being proposed as a Face ID system to better recognize which individual in a room is making a request of the HomePod — as well as what connected devices require the speaker's attention.
Alongside voice recognition, the patent describes how a user could look at the speaker, and then make a more generalized voice command like "turn on that light", with the camera being able to identify which light needs activating by following a user's gaze. This would help solve a pain point of smart home control, where it's often necessary to remember a device's exact name to get a voice assistant to make it do what you want. The system is also intended to be smart enough to recognize what a user could be looking at, should they be turned away from the camera.
Making the smart home simpler
It's not the only trick in the patent's arsenal. Face ID could pair with voice recognition to better understand which specific user is making the request, and respond with personalized names — and could presumably begin to learn which requests that user regularly makes and anticipate them.
For this to work, Face ID would have to advance quite significantly. Currently, Face ID is limited to a close-range depth-sensing ability, making it best suited to mobile devices like the best iPhones or iPad Pro devices. The patent states that a user would still need to set up Face ID on a personal device before transferring the recognition data to the speaker, likely to avoid privacy concerns for others passing through the vicinity of the camera's range.
The patent also goes on to describe how a light array on the HomePod could be used to communicate whether or not a command could be understood, as well as how auxiliary devices like an Apple Watch Series 9 could get involved with smart home controls — specifically suggesting using long presses on an Apple Watch screen to change the brightness of HomeKit lightbulbs.
It's an intriguing use of cameras in a smart speaker, one that would go beyond what's been tried before from the likes of Amazon's Echo lineup or Google Home smart displays. And while this patent doesn't explicitly mention the involvement of a screen for video calls and security, it's hard to imagine Apple putting this together for a potential product without including those features too. Given the number of rumors surrounding a HomePod with a screen being in the works, this would all tie nicely together.
However, as with all patent applications, this isn't necessarily an indication of a product in active development. Instead, see it as Apple looking to protect some very promising ideas for the future — stuff we'd love to see in any eventual HomePod 3.
Get more iMore in your inbox!
Our news, reviews, opinions, and easy to follow guides can turn any iPhone owner into an Apple aficionado
Gerald Lynch is the Editor-in-Chief of iMore, keeping careful watch over the site's editorial output and commercial campaigns, ensuring iMore delivers the in-depth, accurate and timely Apple content its readership deservedly expects. You'll never see him without his iPad Pro, and he loves gaming sessions with his buddies via Apple Arcade on his iPhone 14 Pro, but don't expect him to play with you at home unless your Apple TV is hooked up to a 4K HDR screen and a 7.1 surround system.
Living in London in the UK, Gerald was previously Editor of Gizmodo UK, and Executive Editor of TechRadar, and has covered international trade shows including Apple's WWDC, MWC, CES and IFA. If it has an acronym and an app, he's probably been there, on the front lines reporting on the latest tech innovations. Gerald is also a contributing tech pundit for BBC Radio and has written for various other publications, including T3 magazine, GamesRadar, Space.com, Real Homes, MacFormat, music bible DIY, Tech Digest, TopTenReviews, Mirror.co.uk, Brandish, Kotaku, Shiny Shiny and Lifehacker. Gerald is also the author of 'Get Technology: Upgrade Your Future', published by Aurum Press, and also holds a Guinness world record on Tetris. For real.