Sprint confirms they'll be carrying the 128GB iPad 4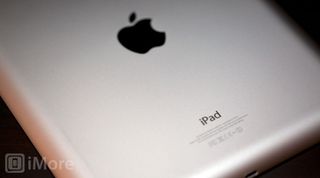 Sprint has confirmed that they will indeed be offering the recently announced 128GB variant of the iPad 4. This also leads us to assume other carriers will follow suit.
Fared Adib, senior vice president of Product Development at Sprint confirmed they'd be carrying the 128GB model today:
As iPads become everyday devices for a lot of people, sometimes even replacing desktop computers and laptops, more storage capacity options are always welcome. The 128GB capacity iPad 4 will be available for purchase on February 5th.
Anyone out there readying their money to pick up the larger capacity?
iMore senior editor from 2011 to 2015.
This is no reflection on you, Ally but... Who the hell cares if you are selling it, Sprint?! Your network is the slowest, least robust option out there! Your iPads are the slowest ones to sell. Who wants to pay you more for less? Besides idiots like ME who are hanging in there until our contracts expire - hoping against hope that you'll get your act together before we're forced to find a new cellular home. To answer the question at the end of the article: That's a lotta of funkin' money. At a starting price of $699, I'd have seriously considered it. But I'm not THAT interested in helping Apple boost their margins. We'll see how I feel in a year or two, when I may be ready to upgrade my iPad 3 (quite possibly with another iPad 3 so I can keep the 30-pin port).

Lol, good luck with the 30-pin port. That's a good one.

Actually, it starts at $799 waits for you to throw something :P

Hehe. I just meant that I would have considered it if it were $699. No hurling of things ...unless you count my disgust with Sprint's data speeds.

I totally agree. Sprint sold its control in my area years ago, and AT&T blows as well

Why would anyone need 128GB in....well, "anything"?? P.S. We have had Sprint for years and the service has been good, very good.

I have 64gb in my Mini.. I'm Good :-)

Thanks so much for your writing!
I found that this an article was useful for my work & I hope that you can continue post more exciting writing!
I wish I can own an new ipad now!
Good luck!

Shut up and take my money! :D Seriously I am planning on getting one with Verizon LTE. I'm about running out of space on my 64GB iPad 2.

You seriously need to evaluate which apps are eating all your space. Really. Clean out some music, clean out some photos, something. Lots of apps are space hogs. If ya miss it, you can always redownload it. I delete games I've already played to the end. If I wanna replay? Download again. Music can move to your phone, flash storage, puter, or even burned to disc so when ya wanna revisit old school? Rip it back. Data Management. $$$$ Saver. No charge for the 411

Why is it news that the carriers will carry it? Of course they will. That's like a press release stating they will carry white iPads...

coooll...........bt i dnt have one :(

Sprint with its unlimited data can't keep up with a iPhone 4S it will never feed enough data to a ipad 4

if u want good tablet of various types visit the below site , http://www.jsxltech.com/ , the site gives nice tablets for reasonable price & latest releases

My Ipad 4 suddenly can't on it!

128 GB, I think it lot and good. But careful the quality of operation do not fall due to this huge volume.
Get the best of iMore in in your inbox, every day!
Thank you for signing up to iMore. You will receive a verification email shortly.
There was a problem. Please refresh the page and try again.