Steve Ballmer says that Microsoft Office will make its way to the iPad... eventually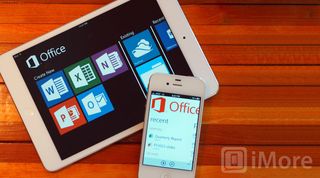 Microsoft Office will eventually come to iPad, according to none other than Steve Ballmer. It's probable that the iPad version of Office will follow a touch-based version of the app suite for Windows 8. But it appears that we may be waiting for Office on iPad for a bit longer, according to The Verge:
Microsoft released Office Mobile in June for Office 365 subscribers, letting users create and edit Office documents on an iPhone. Whatever form Office eventually takes on the iPad, it will no doubt also require an Office 365 subscription to use. And while we don't know when Office will appear on the iPad, it has been rumored that late 2014 is the targeted launch window. Unfortunately for Microsoft, that might be too late.
Source: Gartner Symposium ITXPO, via The Verge
Get the best of iMore in your inbox, every day!
Joseph Keller is the former Editor in Chief of iMore. An Apple user for almost 20 years, he spends his time learning the ins and outs of iOS and macOS, always finding ways of getting the most out of his iPhone, iPad, Apple Watch, and Mac.
Too late already. Pages, Numbers are fine... happy with them and certainly the right price compared to Microsoft.

Yeah, I came here to say the same thing. Just switched to iWork last week. Does everything I need and it's cheaper. Plus the iCloud integration is nice.

Agreed. But I'd add that I actually like Keynote MORE than PowerPoint. MS show themselves in the foot by not releasing Office for iPad years ago..

How does iworks compare to Google Docs/Drive? I'm currently on BB and trying to decide whether to go to iphone or Android, I love the seamlessness between Apple Devices but generally prefer Google services.

i tried both briefly. I imported documents into both. IWorks srewed up the formatting on man documents. Google they displayed perfectly. I don't know why. But It's a big deal as many of my documents have very specific formatting in them and lots of it, indents, paragraphes, quote formats, cites etc. Oh all docs where made originally in Word. My resume had lines and text boxes. That was completely screwed in iWorks. The justification was wrong in many of the boxes. Things on one line ended up on two. again i have no idea why but that's my experience.

They need to redesign the Windows version to accept touch as its primary input method. If that's true, why did they even release it in the first place? No wonder he got fired!

Too late. Microsoft spent the last four or five years teaching people and businesses they had no need for office. Heckuva job Ballmer.

i think Microsoft is always in the delay mode for other platforms

As far as business, esp. big business, goes, Office is still and will remain king.

Like many businesses, mine uses Office. But I've learned to get along just fine with iWorks when I'm on my iPad. As others have said, the ship has already sailed. Had Office been available for the iPad when I first got it I would have bought it without any thought. Now I'm running iWorks on everything and haven't looked back. Plus I have no use for "subscription" software. I prefer buying over renting any day.

ok what comes first? Office for the ipad or BBM for iOS?