If you're stuck driving around in an older car that doesn't feature Bluetooth, your chance to wirelessly stream music from your phone to your car radio still exists without buying a new car, and there's an extremely affordable way of going about it. The Aukey Bluetooth Receiver Car Kit is a brilliant device that helps you feel like you're driving a car from 2019 rather than 1999, and today you can score one for just $15.59 at Amazon when you first clip the coupon on its product page and then enter promo code 6L5EC9MN during checkout. That saves you more than $8 off its price there, though it's honestly 100% worth even the full cost for the convenience it brings.
I purchased one of these for my car about two years ago and it's easily the best add-on I've ever used, not to mention one of the least expensive too — as anyone who owns a vehicle knows how costly they turn out to be in the long run. No more listening to the same 10 songs the radio DJs want to play over and over, and coming from someone who still has a growing CD collection, switching between discs in the car while you're driving is asking for trouble.
Listen Up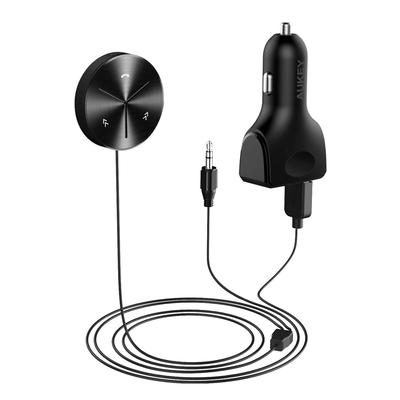 AUKEY Bluetooth Receiver Car Kit
Adding this Bluetooth receiver to any car is a breeze and makes a world of difference. Stream music wirelessly and take calls hands-free for just $16, though you have to clip its on-page coupon and enter the following promo code to snag this deal.
$15.59 $23.99 $8 off
You simply plug this device into your car's AUX port and the included car charger into your vehicle's cigarette lighter socket, then pair your phone wirelessly to the receiver to begin listening. It's a good fit for hands-free calls too with its built-in microphone. The included car charger features three USB ports so you can power your new receiver along with two other devices at the same time. The device even has track-skipping controls and an Answer/End Call button. Aukey backs it up with a two-year warranty.
While Aukey's Bluetooth Receiver Kit is the best add-on I've found for my car, the second best is this Popsocket Phone Mount. It's dangerous (and in some states illegal) to drive with your phone in your hand, and this tiny mount makes it easy to mount your phone if you already have a Popsocket on it. That's much better than the metal plate eyesores that some mounts have you stick onto the back of your device.
We may earn a commission for purchases using our links. Learn more.