Subsidized iPad price drop in the UK, iPad 2 coming soon?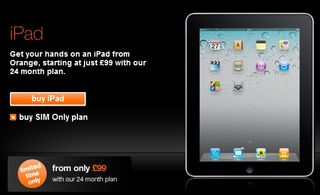 UK mobile networks, T-Mobile and Orange have slashed the price of the iPad which could mean the iPad 2 is right around the corner. Both networks currently offer the iPad at a subsidized price when you sign up for a 24 month data contract.
Originally Orange offered the iPad 16 GB WiFi + 3G for £199.99 ($323) for existing customers or £229.99 ($372) for new customers, now that has been slashed to just £99.00 ($161). T-Mobile also now offers the same model iPad for £99.00 ($161) but only to existing customers. The downside of course is the 2 year data contract that you have to sign up for at around £25.00 ($41) per month.
Usually on the run up to a product refresh, it is common practice for vendors to look to dump inventory by cutting prices. The more cynical amongst us may also point out that the original prices were a little on the extortionate side to start with. This price cut may just enable Orange and T-Mobile to actually sell some iPads now.
Either way, we do expect to hear some concrete iPad 2 news very soon, watch this space!
[Techradar]
UK editor at iMore, mobile technology lover and air conditioning design engineer.
Great article & a great warning to everyone to hang 10 for the upcoming iPad & iPhone, as I am instead of being caught in a 24 month contract with aged devices.
Also I pay cash to avoid contracts.

Everyone seems to be slashing prices on the iPad or iPad accessories. AT&T announced a 50% sale on accessories just last week. The writing is on the wall with the impending release of the feature packed Motorolla Xoom and the Samsung galaxy tab 2, both based on Google Android 3.0. Apple just has release the iPad 2 soon or risk seeing their market share dwindle.

The Xoom can't compete with iPad. Why? $$$ So it's DOA for me. If I'm gonna spend $800 it's not gonna be on a tablet. I'm waiting on the september surprise of iPad 3 avec Retina.

It has been nearly 13 months since the original iPad was announced. I wonder if Apple held off this year to see what the competition was doing to see what configuration/price point to go with.

I doubt that the next iPad will be 'round the corner'.
Personally I think t-mobile and orange got the pricing structure wrong with such a low data allowance. The 3 network gives u 15gb a month!!
Jump forward to present day ....
New iPad is out soon - holy crap we got loads of these left !!!
Gotta get rid of em quick lol
fail

I do not think that these companies have any inside knowledge of the next iPad. Like many of us, they want to prep for the event in case it happens by selling what they have on hand.
As we get closer to the "announcement" of an iPhone 5, you will see many people ditching their iPhone's and selling them. Not because they have inside knowledge, but because they want to get the most out of them while they can.
iP gadget man out! Peace!

Having a look on Orange website, that deal is if your an exister, if not, you can get at £99 but you have to go into an Orange shop and get conned into something else otherwise its no deal.

Isn't this just great! I now have to unload over 22,000 photos, most high resolution (about 48 Gb) to fix a problem which should not have occurred at all. It seems that every time Apple updates anything, it goes wrong. It's just bad software.

Magnificent post, very informative. I wonder why the opposite experts of this sector do not realize this. You should continue your writing. I'm sure, you've a huge readers' base already!|What's Happening i am new to this, I stumbled upon this I have found It absolutely helpful and it has helped me out loads. I'm hoping to contribute & assist other users like its helped me. Great job.
Thank you for signing up to iMore. You will receive a verification email shortly.
There was a problem. Please refresh the page and try again.