The TaoTronics TT-DL028 LED desk lamp with USB charging port is down to $19.99 with code F34MHDT2 at Amazon. That price is half off what it's going for without the code. The lamp has been selling for around $40 for the last several months after it dropped from $45 back in August. It has never dropped lower than that $40 price without a code like this or some other sort of coupon, and these deals can be rare and hard to spot without an excellent deal watcher like me. So, you know... you're welcome.
Let's see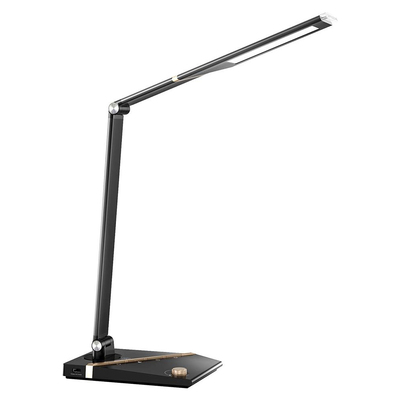 The lamp has five color temperatures for any lighting situation, which you can adjust via the gradient dimming knob. The LEDs reach up to 1,000 Lux. Charge your mobile device via the integrated USB port. Has a one-hour timer and nightlight function.
$19.99 $40.00 $20 off
The LED desk lamp has five different color temperatures. Use these many settings to create the ideal atmosphere for whatever you're doing in the light. Use the fine-tuning knob and gradiant dimming to decide exactly what you need and adjust it on the fly. The lamp also keeps its buttons old fashioned and physical so you can find them in the dark or so you don't accidentally switch them on and off like you might with a touch lamp. I actually had a touch lamp once that would turn on and off even with a new piece of dust. It was the worst.
The LED panel can reach up to 1,000 Lux and still be soft on the eyes because that's just how LEDs work. With the lamp sitting on your nightstand, you also have a USB charging port conveniently closer to you. Use it to charge your mobile device or plug in something else.
Other features include a one-hour auto timer and a soft nightlight function. Users give it 4.5 stars out of 5 based on 20 reviews.
We may earn a commission for purchases using our links. Learn more.