Best Holiday Tech Gifts for Under $50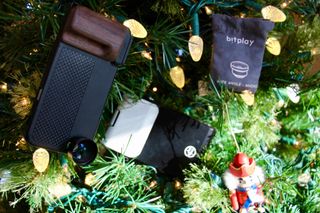 There's a lot to love this holiday season when it comes to tech and sharing that love is what the season is all about! But you don't have to break the bank in order to spread a little holiday tech cheer. These are the best gifts of the season for under $50!
Chromecast
If your holiday tech enthusiast is dying to stream stuff from their phone to the TV because they don't have a set top box or streaming box, then let Chromecast fill the void. Apple TV is unreal, but will more than double your $50 budget, and Chromecast is the next best thing at around $35.
It plugs into your TV's HDMI port and acts as a go-between, so you can stream whatever's on your phone to the TV. YouTube, Netflix, and all Chromecast-supported apps can be bumped up to 1080p if it's available (if you spend an extra $35, you can go for Chromecast Ultra and stream in 4K).
If the recipient is on Android, they'll be able to mirror their phone or tablet's screen as well.
Chromecast is perfect for the streaming junkie in your life or the person who just wants Netflix on a screen larger than 4.7 inches.
OontZ Angle 3
The OontZ Angle 2 from Cambridge Soundworks is a delightful little Bluetooth speaker that packs quite a punch when you consider it's only $25. It's got crisp, clear sound, even at higher volumes and an excellent bass response that might make one think it's worth three times as much.
It's portable and has an IPX5 water resistance rating, so it can take some splashing, making it perfect for poolside fun or the rowdiest of parties. You can connect it to your iPhone, iPad, Mac, or any other Bluetooth-enabled device you may have that plays tunes. There's also a 3.5mm jack, just in case you don't want to do the wireless thing.
See at Amazon (opens in new tab)
Amazon Echo Dot
The Amazon Echo (opens in new tab) has quickly become one of the most popular Bluetooth speakers/personal assistants, and the Echo Dot is the smaller, hockey puck-like version that's more about Alexa than the speaker. You can connect to external speakers via Bluetooth or a 3.5mm cable.
The real point of the Dot is Alexa, Amazon's virtual assistant that can pretty much do it all. You can "teach" Alexa skills and have her help you do all sorts of stuff, from turning the lights on and off to controlling your smart thermostat to ordering pizza. The Dot is always listening (kinda creepy, but useful), so you can get up and ask for the day's weather or news. There are a ton of neat tricks you can do.
If you're looking for a futuristic gifts that works right now, definitely check out the Amazon Echo Dot. It's just so cool! And right at $49.99, it's the perfect way to give the gift of the beginnings of a smart home! Comes in white or black.
See at Amazon (opens in new tab)
Google Home Mini
For the Android user on your list, the Google Home Mini is a terrific smart speaker that, similar to the Echo Dot, is more about Google Assistant than it is the speaker. You can connect any Bluetooth speaker if you want bigger sound.
The Home Mini lets you use Google Assistant hands-free, allowing you to set timers, add to grocery and to-do lists, set reminders, search the web, control your smart home devices, and much, much more. If you pair it with a Chromecast, you can do even more, like getting Google Assistant to shows you pictures from your phone on your TV or stream movies and TV shows, all through voice commands.
If you have a tech lover on your list who wants to start a smart home and uses Android, then the Google Home Mini is an excellent alternative to Amazon Echo. Comes in chalk, charcoal, and coral color options starting at $49.
See at Best Buy (opens in new tab)
iDevices Switch
Are the people on your list interested in a connected home? Then our own Mikah Sargent (the iMore-proclaimed king of the smart home) recommend the iDevices Switch, which turns any household power outlet into a smart outlet — no hub required!
Plug in a lamp, your TV, you know, anything you plug into a power outlet (that has an on/off setting), and you can turn it on and off with your phone. You can control the outlet from anywhere you can get a Wi-Fi signal. So if you're worried you left a lamp on or whatever, you can turn it off. The iDevices Switch also gives you energy consumption reports to help you make better energy saving decisions.
These switches are only $24 on Amazon (opens in new tab) and work with the Amazon Echo Dot, so if you feel like spending $75, you can get someone the true beginnings of a smart home!
See at Amazon (opens in new tab)
BB-8 USB car charger
Got a Star Wars fan on your hands? Perfect.
The BB-8 USB car charger delightfully sits in your car's cup holder and can simultaneously charge two devices via USB. Just plug the connector into your car's 12V outlet (cigarette lighter for those of us that remember), and away you go.
The best part? BB-8 moves and makes sounds (can be muted/turned off)! If you're grabbing a gift for someone who wants to ride in style with a droid at their side, then go for this charger. I mean, come on. It's adorable and only $29.
See at Amazon (opens in new tab)
Lightsaber selfie stick
While I don't condone selfies, I do condone swinging a lightsaber around, no matter the purpose. If you have a selfie-taker on your list who also happens to be a Star Wars fan, then they need this in their life. No question about it.
At the end of the day, it's just a selfie stick with a lightsaber hilt as its handle, but if someone's going to be taking selfies, they may as well do it with the Force, no? Plus it's only $6.
See at Amazon (opens in new tab)
Amazon Fire Tablet (7")
I know what you're thinking: "A tablet? For under $50? It's gotta be $#!%." And to that I say, so long as your gift recipient isn't expecting iPad Pro-level performance, you'd be wrong.
The 8GB 7-inch Fire Tablet features a rather attractive IPS (in-plane switching) display, a 1.3GHz quad-core processor, and up to 7 hours of battery life. You get access to Amazon Underground, which houses thousands of apps and games that are completely free, and Amazon Prime (opens in new tab) members get exclusive and unlimited access to a large selection of songs, books, videos, and more.
The app store is limited to Amazon's, but you can download a ton of your favorites, like Netflix, Pinterest, Twitch, Skype, and more.
If you need more than 8GB of storage, you can jump up to the 16GB version for only $20 more (opens in new tab). That being said, both models feature a microSD slot, which can take an SD card up to 256GB.
The Amazon Fire tablet comes in blue, black, red, and yellow
See at Amazon (opens in new tab)
August EP650 headphones
It's me, Luke Filipowicz, hijacking Mike's article to tell you about the best budget headphones I have ever spent my precious money on; the August EP650.
I have listened to every kind of music imaginable with my pair of EP650's, and I am impressed continuously by the sound quality it provides. The bass is deep and powerful, while the highs remain crisp and clear, giving you an excellent, balanced sound that will most likely please your ears whether you listen to hair metal or classical.
August says that the built-in battery — which charges via Micro-USB — will last you for 10 hours, but I consistently get about 12 hours of use out of my pair, and that's with EP650 connected to my Mac and my iPhone while I listen to music and podcasts all day. Plus, the big, comfy pads on the cans make wearing the EP650's all day easy as pie without hurting your ears.
If that's not enough, August includes playback controls on the right side of the headphones that will let you skip tracks, adjust volume, and play/pause your music, audiobooks, podcasts, or anything else! The buttons work great and are especially useful when you don't have easy access to your phone — like when it's cold outside and taking your gloves off would freeze your skin!
Don't get me wrong, the August EP650 won't hold a candle to higher-end headphones from manufacturers like Bose or Sennheiser; however, for $45 you'll be hard-pressed to find another pair of headphones that offers such an excellent experience.
See at Amazon (opens in new tab)
Apple leather case for iPhone 8, 8 Plus, or X
Got an iPhone lover that needs a little something Apple-y? Check out the gorgeous leather case for iPhone 8, iPhone 8 Plus, and iPhone X from Apple.
The textured leather is gorgeous and has a comfortable feel in-hand, and the case leaves all your ports open and easy to access. The inside is lined with microfiber to protect your phone from scratches, and the aluminum button covers match the finish on your case, while providing excellent tactile feedback.
The leather case comes in nine colors that are sure to please and starts at $45.
See at Apple (opens in new tab)
Nintendo Switch dock socks
It sounds funny, but adding a microfiber protector to your Nintendo Switch gives it a splash of Nintendo awesomeness, and these handmade sleeves that go over your gift recipient's Switch dock are just plain awesome. There are plenty of Zelda options, as well as other classic Nintendo fare, like Donkey Kong, the Mushroom Kingdom gang, Pokémon, and even Splatoon.
These are only $17, so grab a few!
See at Amazon (opens in new tab)
Apple Watch Sport Loop
Apple's new Sport Loop is double-layer woven nylon for the utmost in comfort, as well as breathability and sweat-wicking. It's the perfect gift for someone whose Apple Watch Sport Band might be looking a little worse for wear.
These durable bands come in eight color options and are only $49 straight from Apple. Just make sure you choose the right size for the right Apple Watch (38mm or 42mm).
See at Apple (opens in new tab)
Magicfly folding book light
Got a reader on your list? Then the Magicfly folding booklight would make an excellent elegant and warm touch to their reading nook. It's basically an accordion-like device that's made of wood and in the shape of a book. You open it up, and the "pages" fan out into a beautifully warm glow. The light is rechargeable via USB, so your recipient can take it with them anywhere they like around the house.
For $33, this is the perfect gift for the bookwork in your life. It comes in a warm white light or as a multicolored light, with blue, green, orange, and red.
Nomad Pod
If you have any Apple Watch lovers on your list, the Nomad Pod is the perfect way to help them keep their watch charged on the go. The Pod is a portable battery that'll fully charge your Apple Watch three times. The top is made of anodized aluminum, so it can stand up to life on the road, where it belongs. Check it out for $33 on Nomad's site!
See at Nomad (opens in new tab)
App Store and iTunes gift card
If all else fails, you can't go wrong with the tried and true and never-thoughtless iTunes gift card. You can buy them from thousands of retailers in different denominations, and they take the hassle out of worrying if your gift is the right one or not. Some folks think gift cards are impersonal, but I think that they're the perfect way to make sure that the person you're buying for gets exactly what they want.
Check 'em out at your local drugstore or grocery store and even on Amazon!
See at Amazon (opens in new tab)
Any other suggestions?
Got some great <$50 tech gift ideas? Let us know in the comments below!
Updated November 2017: We've updated our list with the best gifts for 2017, including the Google Home Mini, Nintendo Switch dock socks, and more!
Get the best of iMore in your inbox, every day!
Mick is a staff writer who's as frugal as they come, so he always does extensive research (much to the exhaustion of his wife) before making a purchase. If it's not worth the price, Mick ain't buying.