Mesh networking is one of the best ways to ensure that your home is covered in a blanket of Wi-Fi. Few things are more annoying than having to avoid certain areas of your home if you want stable Wi-Fi coverage. A mesh Wi-Fi system can help eliminate dead zones, and today the Tenda Nova MW5 Mesh Networking System is available for the best price we've seen yet. It typically costs around $110, but using coupon code EMCUTUC32 during checkout at Newegg will drop your total down to $69.99 today. Shipping is free and this discount is $20 better than the next best we've shared. The deal is only available for a limited time. The system is also on sale via Amazon, but Newegg's price drop beats Amazon's by $20.
Whole Home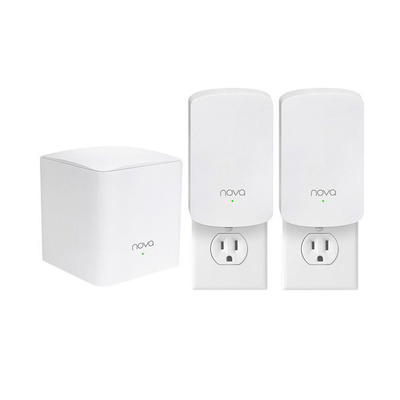 Tenda Nova MW5 Whole Home Mesh Networking Wi-Fi System (3-pack)
This beats the next-best offer we've seen by nearly $20. Enter the promo code to save. The system can cover up to 3,500 square feet in seamless, strong Wi-Fi. Setup is easy and so is monitoring your network. There are even built-in parental controls.
$69.99 $110.00 $40 off
The Tenda Nova MW5 system replaces your Wi-Fi router and any other devices you've been using to make up for dead zones like range extenders. The three-pack on sale today is capable of covering up to 3,500 square feet of your home with strong and stable Wi-Fi, and you can buy additional units to extend the range at any time. The system is compatible with basically every ISP, including AT&T, Comcast, Verizon, Spectrum, and more.
Each unit works together seamlessly to form a "blanket" of Wi-Fi that covers your entire home. The nodes can handle up to 60 devices apiece as well, so you should have no trouble connecting every piece of gear that you own. Setup is easy and takes only a few moments, and the free Tenda Wi-Fi app gives you access to monitoring tools and parental controls too.
At Amazon, over 1,000 customers left a review for the MW5 system, resulting in a rating of 4 out of 5 stars on average. If this system isn't the best fit for your home, check out our roundup of the Best Mesh Wi-Fi Systems in 2019.
We may earn a commission for purchases using our links. Learn more.