With how few ports are being integrated into computers these days, USB-C hubs are becoming more and more commonplace. If you haven't picked one up yet, you're in luck as Amazon has the HooToo 6-in-1 USB-C hub discounted to just $25.99 when you clip the coupon on its product page and then enter promo code TZMFL9SJ during checkout. That'll save you $24 off its regular price.
Office Essentials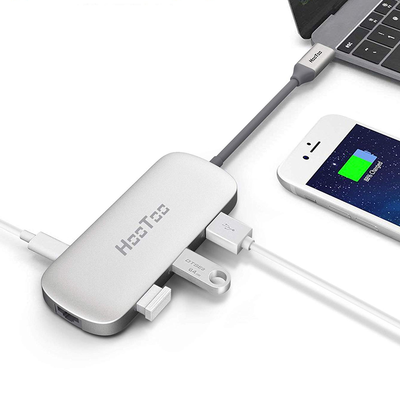 HooToo 6-in-1 USB-C hub
These discounted USB-C hubs feature various ports to connect devices like monitors, keyboards, and flash drives to your computer. You'll just need to clip the coupon on its product page and enter the code below to snag this low price.
Starting at $26
This all-in-one USB-C hub is packed with ports, from an HDMI port to three USB 3.0 ports. There's also an Ethernet port and a USB-C power pass-through port that allows you to charge your computer while the hub's plugged in. With an HDMI cable, you can use your TV's screen as a monitor for your computer, or hook up a dedicated computer monitor for a dual display. It even supports 4K UHD resolution. Meanwhile, its various USB ports can help connect everything from keyboards and mice to flash drives, while the Ethernet port offers wired internet speeds up to 1 Gbps.
HooToo also has a version of this hub which features a microSD card slot, and clipping the coupon on its product page as well as entering code 3ZY7NSPE during checkout drops its price down to $29.29. That's nearly $20 off its regular cost, though this model doesn't include a USB-C pass-through port.
We may earn a commission for purchases using our links. Learn more.