Recently priced at $49.99, Amazon's giving you the chance to start listening wirelessly with the TaoTronics SoundLiberty 53 Wireless Earphones for only $32.99. Simply enter promo code 49CMCW7F during checkout to save $12 off their current price and bring them lower than they've ever reached without a code before.
TURN IT UP!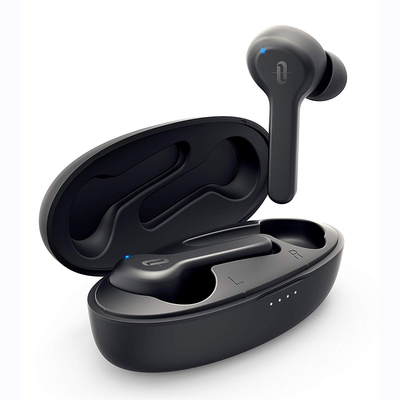 TaoTronics SoundLiberty 53 Wireless Earphones
These Bluetooth in-ear headphones are fully wireless, come with a charging case that offers up to 40 hours of battery life, and feature an integrated microphone for hands-free calls.
$32.99 $44.99 $12 off
The SoundLiberty 53 in-ear headphones are equipped with 6mm dynamic drivers, enhanced bass, and IPX7 water-resistance making them suitable to use while running in the rain or sweating at the gym. Each earbud has an integrated microphone and allows you to answer or hang up calls with a simple tap or two. That's how you can pause your music or switch tracks too.
With the included charging case, you can stick these earbuds inside anytime their battery is running low to power them back up, for a total of 40 hours on a single charge. The earbuds themselves are capable of lasting for about five hours at a time.
More than 650 customers left reviews at Amazon for these headphones resulting in a rating of 4.2 out of 5 stars.
We may earn a commission for purchases using our links. Learn more.