TiPb TV 20: Bond boat bash [giveaway]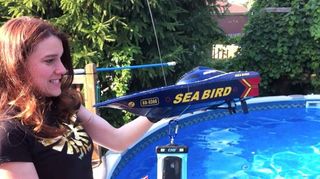 We put the original Aquapac and Overboard cases for iPhone 4 through the car wash and into the deep end, so what could we do with Aquapac for iPad 2 and the new Overboard Pro Sport for iPhone? Well, Rene and I had some Amazing Case-style ideas. However, putting the waterproof Acquapac for iPad and Overboard for iPhone through the dishwasher just didn't sound cool. You know what's cool? Putting them head to head in a Bond boat bash!
Do we expect the cases to leak? No, TiPb TV viewers, we expect them to die!
Giveaway: We're giving away one of each case! To enter, just leave a comment below telling us which of these two cases you prefer, Overboard Pro Sport for iPhone or Aquapac for iPad 2, and where you'd like to use them -- beach, bath, shower, hot tub, high speed boat chase with a super hot Bond girl (or guy!)!
(Oh, and telling us what you think about the show can't hurt!)
Get more iMore in your inbox!
Our news, reviews, opinions, and easy to follow guides can turn any iPhone owner into an Apple aficionado
Senior Editor at iMore and a practicing therapist specializing in stress and anxiety. She speaks everywhere from conferences to corporations, co-host of Vector and Isometric podcasts, follow her on Twitter @Georgia_Dow and check out her series at anxiety-videos.com.