TiPb TV 20: Bond boat bash [giveaway]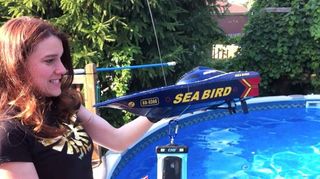 We put the original Aquapac and Overboard cases for iPhone 4 through the car wash and into the deep end, so what could we do with Aquapac for iPad 2 and the new Overboard Pro Sport for iPhone? Well, Rene and I had some Amazing Case-style ideas. However, putting the waterproof Acquapac for iPad and Overboard for iPhone through the dishwasher just didn't sound cool. You know what's cool? Putting them head to head in a Bond boat bash!
Do we expect the cases to leak? No, TiPb TV viewers, we expect them to die!
Giveaway: We're giving away one of each case! To enter, just leave a comment below telling us which of these two cases you prefer, Overboard Pro Sport for iPhone or Aquapac for iPad 2, and where you'd like to use them -- beach, bath, shower, hot tub, high speed boat chase with a super hot Bond girl (or guy!)!
(Oh, and telling us what you think about the show can't hurt!)
Senior Editor at iMore and a practicing therapist specializing in stress and anxiety. She speaks everywhere from conferences to corporations, co-host of Vector and Isometric podcasts, follow her on Twitter @Georgia_Dow and check out her series at anxiety-videos.com.
I'd love the Overboard Pro Sport for iPhone. Would be great for all the outdoor events this summer and sudden downpours! Just bought emergency covers for my DSLR.

Overboard Pro Sport for iPhone - it would be very useful when i am canoeing

I'd love the Overboard Pro Sport for iPhone for when I go to Punta Cana. I love to go snorkeling.

Overboard Pro Sport for iPhone for when I have to dredge the rivers!

Please hook me up with Aquapac Waterproof Case for iPad 2! I'm coming down to Costa Rica soon and they are in the rainy season; so this come in handy!!

Gotta go with the OverBoard Pro-Sport Waterproof Case for the beach, pool and those cottage events (I avoid using it in the shower). Oh and I like the pool shot from the bottom, gonna try that one. btw Vodka Martini, shaken not stirred please.

I would probably want the Aquapac for the iPad 2 because, I honestly probably spend more time in the water then I do out of it. I would use it by the pool, at the lake house, probably even in the shower haha.

Best TiPB TV yet! Just passes the iPad sledding one by a bit.
I would like the Overboard for iPhone because I go swimming with my 7 year old cousin and would love to be able to film to show to my family! Maybe even do some good jumps and dives! :D

I would like the one for the iPhone and I would use it to finish my documentary about the beach

I would love the OverBoard Pro Sport for my iPhone. It would be perfect for my Kayak!

i love how the iphone camera still takes vodeo very good on the overboard pro
at least for what i've seen on videos unlike the aquapac
i would use it to be able to have my iphone out at the pool,
my girlfriend is always trying to push me into the pool even if i have my iphone out
so i would use to throw her into the pool and still know that my iphone is safe :)
love your videos great job rene and georgia
and another question how do i post something while logged in to the forums?
for some reason i can't find a way to do it so i just post it as a guest :/

OVerboard Pro for my iPhone4 would be awesome to take underwater pics and vids of my kids on our upcoming vacation.... so I can send them to the grandparents right away! (Yay unlimited Data plan!!)

Overboard Pro for my Iphone4 would save my life since I'm bout to start lifeguard training at my college in the fall. Help a broke college student out

I'd like the overboard! And god I love this show. I've seen every single one at least twice!

I'd like the overboard sport plus. Because id rather take my iPhone up to the lake than my big ol' iPad. Haha

Aquapac Waterproof Case for iPad 2! I would love to be able to use my iPad 2 in the hot tub! Keep up great work!

overboard sport! how I have I showered without my iphone for so long!?

The overboard pro sport without a doubt! Comment about your show? What words do you use to describe PURRfection!

case for the iPad 2, because who doesn't want to be checking their twitter timeline while in the shower?...

Overboard Pro Sport please! I'm always at the beach skimboarding, surfing, boggie boarding, etc. I also sail a lot too. And I have a pool. So I'm always around water. My iPhones don't get along with water too good either. My first iPhone (iPhone 3G) was in my pocket while when I got pushed in the pool. My 3GS, which was in a plastic bag, somehow got waterlogged when my friend threw his not completely sealed water in the same bag as my phone. Now I have a 4. This case would help protect my iPhone 4 from the doom that is it's fate.

I would want the Aquapac for iPad 2, because I want to listen to iPad Live, iPhone Live and Zen and Tech in my tub...

I'd like the Aquapac so I could watch Netflix in the hot tub. Great Show!!

Overboard Pro Sport please so I can play words with friends in the pool!

Overboard Pro Sport so I can film my kids in the pool and at the beach!

Love it that you did this so I won't have to! If I win the Overboard for iPhone it will be nice knowing I can drag it behind a tiny speed boat, should that occasion arise.

Georgia has cute feet for the 1 1/2 sec we saw them.

OMG great I could really use one of these... then my device will never leave my grip xD Since I have a ipod touch I'd want the iphone overboard case, and I take it everywhere I could possibly go, even into the shower :D

I would really like the Overboard Pro, because we go hiking a lot and I like to take my iPhone 4 for pictures, but fear it getting wet by the river and falls.

Awesome episode, as always!
Any chance of putting TiPb TV in iTunes as a separate podcast?

Aquapac for iPad 2. I'm gonna need this buy the pool before the summer ends.

This would come in handy!!!

i like the overboard pro sport for the iphone for the iphone

I would like the Overboard to use while taking a bath.

I like the Myth Busters like style of this video. I would also like that is another tipb tv please up loaded more videos soon!

Overboard for the iPhone. So I won't miss listening to any TIPB podcasts...even in the shower.

Overboard for iPhone looks great for weekends at the beach!

the overboard pro case seems way more functional to me especially since i dont own an ipad

Love the aquapac! Since first seeing them I've wanted one for fishing to protect my iPad 2. I use it to mark fishing locations on the water

I want the aqua pac for iPad that would be awesome

aquapac for ipad...i would use it while at the beach in the ocean boogie boarding.

Just like those waterproof bags for floating down the Rhine!!!!!

It's my first go to see to this website, and I am actually astonished to see such a pleasant feature YouTube video posted here.

Hi Rich we love the Portabote. We haven't used it that much lately as we've had to get the outboard serviced but just folding it up and stowing it on deck keeps me happy!
Get the best of iMore in in your inbox, every day!
Thank you for signing up to iMore. You will receive a verification email shortly.
There was a problem. Please refresh the page and try again.