Top 10 holiday gifts for the movie nut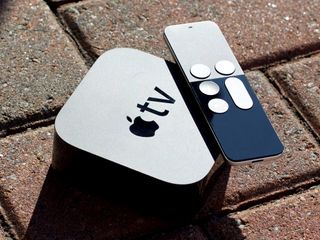 (Image credit: iMore)
There's been talk of this being the golden age of television, but it's also a golden time for those that love movies. Not necessarily because there are great movies out there (there are, no doubt), but because it's never been easier to watch our favorite TV shows and movies. Combine large high-resolution screens on smartphones, speedy LTE connections, and services that stream our entertainment straight from the cloud, the options are nearly limitless. Check out some of our favorite products that can make your entertainment experience comfortable for everyone on the couch or find more amazing gifts in our extensive 2015 Holiday Gift Guide that expand beyond the home theater setup.
Apple TV
The new Apple TV brings all the mobile apps you love to the big screen, whether it's Netflix, Hulu, or your favorite games. The Siri Remote features a touch surface, Bluetooth 4.0, accelerometer, and gyroscope that makes finding what you want to watch easier than ever. Apple TV is also a great way to share all your photos and video via iCloud conveniently and easily. You can grab either the 32GB version for $149 or opt for the larger 64GB for $199.
$149 at Best Buy From $149 at Apple
Samsung 50-inch 4K Ultra HD Smart LED TV
If you're going to get the most out of your movies you should have a legit TV to do the job. This 50-incher is a good size for most setups, but is also available in a 75-inch version if you want to get serious. The 4K UHD delivers resolution 4x higher than full HD and utilizes a quad-core CPU that assists in a highly responsive user interface when accessing the TV's built-in apps. Samsung's PurColor and UHD Dimming Technology keeps colors accurate and vibrant with deeper blacks and purer whites. It's a true movie machine.
SodaStream Fountain Jet Home Soda Maker Starter Kit
Skip the store-bought soda that's loaded with high fructose corn syrup and aspartame. Instead, make your own delicious soda with the SodaStream Fountain Jet that requires no electricity or batteries to operate. This innovative accessory transforms ordinary tap water into sparkling water in 30 seconds or less using the included CO2 carbonator that can prepare 6 liters of soda. When you run out, simply exchange it for a 60L at any of the suggested retail outlets. When it comes to making your own flavored sodas, there are over 60 different varieties to choose from and you can adjust the sweetness by adding the sodamix as you go. The SodaStream Fountain is a unique addition to any kitchen and will have your guests coming back for future movie nights.
2015 Chromecast
The new and improved Chromecast enables a smooth casting experience from your smartphone or tablet to your TV using a miniature dangling puck rather than the old key-shaped design we've been using for a while. So, what's new with the 2015 Chromecast? Now there's support for 5GHz Wi-Fi in addition to 2.5GHz, it uses new antennas which support the 802.11ac protocol, and a unique magnetic clasp system that's supposed to keep a tidy design behind your TV while connected to an HDMI port. If you're after an affordable way to cast your media to your TV, Chromecast will do the trick without breaking the bank.
$35 from Google $35 at Best Buy
Sonos Playbar
Bring your movies to life with Sonos' Playbar which features 9 amplified speakers inside its low profile design. Connect it directly to your TV and/or wirelessly to your Android or iPhone for streaming your favorite playlists while guests are over. The Sonos Playbar can also be set up with other Sonos speakers around your home if you want to spread the tunes to more than just one room. With only a power and optical cord to connect, setup is quick and super-simple.
Sennheiser Urbanite XL Wireless Headphones
Sometimes you just need to enjoy a movie while shutting out the world around you. Sennheiser's Urbanite XL Bluetooth Headphones are just the tool for the job. Using Bluetooth 4.0 and aptX technology, you can connect them to 3 different devices at once and are designed for all day comfort. The amazing 25 hours of battery life you get from one full charge means they'll keep up with your House of Cards marathon, too. They're constructed with durable metal hinges and aluminum ear cup sliders that fold into a compact form for easy storage or traveling purposes.
Great Northern Popcorn Machine
No movie night is complete without some delicious popcorn to snack on. Add this retro-styled countertop popper to your kitchen and prepare popcorn for yourself and that special someone or the entire family. The Great Northern Popcorn Machine can pop approximately 1 gallon of popcorn per batch and features a convenient slide-out serving tray that's dishwasher safe and ideal for easy cleanup. Included with the machine is a 2.5oz stainless steel kettle with a built-in stirring system and a warming light to keep your popcorn the perfect temperature while you wait.
Logitech Harmony Elite Remote
This universal remote doesn't just control how you watch your TV, it connects to all your home automation gadgets so you can manage what you want, when you want with a few simple swipes on its full-color touchscreen. The Logitech Harmony Elite works with over 270,000 devices including Apple TV, Roku, gaming consoles, Philips Hue lights, smart thermostats, and so much more. With one-touch activities you can tap any activity on the remote and it will switch your connected devices to the right settings so you're ready to enjoy a movie with dimmed lights without having to get up.
$335 at Amazon $350 at Best Buy
Amazon Fire TV
The 2015 Amazon Fire TV packs 75% more processing power than before, uses a dedicated graphics engine, improved Wi-Fi support, and now supports 4K UHD for exceptional picture quality. The matching voice remote allows you to say what you want to watch for a quick result and an optional game controller is sold separately for those interested in taking advantage of the huge list of games available. Amazon Fire TV also features Alexa to get the latest updates on sports, weather, and more. It's without a doubt a top contender this year.
VIZIO 70-inch 1080p Smart LED TV
This 70-incher from VIZIO is great way to enjoy your movies and TV shows without the huge price tag. It comes loaded with popular apps like Netflix, Amazon Instant Video, Hulu Plus, YouTube, and plenty more that are easily accessible with the included remote. It may not have 4k support, but there's not much can watch in 4k just yet. It still features full-array LED backlighting, 1080p Full HD quality, and an advertised 240Hz effective refresh rate for incredible detail in those action-packed scenes. You can mount this media monster on your wall (wall mount sold separately) or use the included stand if you already have the perfect home theater set up for its size.
Roku 4
The Roku 4 provides an easy way to stream movies and TV from over 2,500 channels and popular services like Netflix, Hulu Plus, Amazon Instant Video, HBO Go, and more. This 2015 model is faster with 4K UHD support and features a built-in microphone on the remote for quick voice searches for your all your content. If you need to keep things quiet, connect your favorite pair of headphone directly to the Roku 3's remote and don't miss a beat. Lost your Roku remote? Tap the button on top of the Roku 4's base and it'll help locate it for you.
VIZIO 40-inch 5.1 Channel Sound Bar
At half the price of the Sonos Playbar, VIZIO's 40-inch Sound Bar offers 5.1 surround sound with two rear satellite speakers and a wireless subwoofer that turns any movie into overdrive. This sound bar has built-in Bluetooth with aptX technology that lets you stream your music straight from your mobile devices. The intuitive remote features an LCD display that makes managing your new audio experience easier than ever.
Get more iMore in your inbox!
Our news, reviews, opinions, and easy to follow guides can turn any iPhone owner into an Apple aficionado
Your friendly neighborhood accessories guru