Transport Tycoon coming to iOS on October 3rd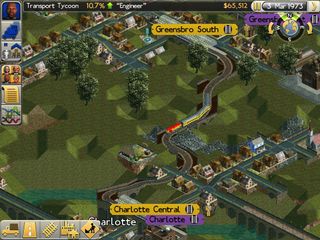 Chris Sawyer's 31X is working with Origin8 Technologies on an all-new iOS version of his classic strategy game Transport Tycoon. The new game is coming to iOS (and Google Play) on October 3rd, the companies announced.
The game puts you in charge of building up transportation infrastructures between towns and cities, keeping passengers and freight moving to help grease the wheels of commerce. You build bus and truck lines, trams and rail lines, airports and seaports. You'll need to build bridges and dig tunnels - everything it takes to build a thriving transportation system that successfully brings people, materials and goods to where they need to go.
The mobile version of Transport Tycoon has been completely reimagined for modern devices using touch interfaces. The game includes more than 150 vehicle types, 49 scenarios and progress tracking with in-depth company statistics.
Fun, fun. I like these kinds of classic games. I look forward to this.
Get the best of iMore in in your inbox, every day!
Thank you for signing up to iMore. You will receive a verification email shortly.
There was a problem. Please refresh the page and try again.