Comic: Apple's truly smashing fashion statement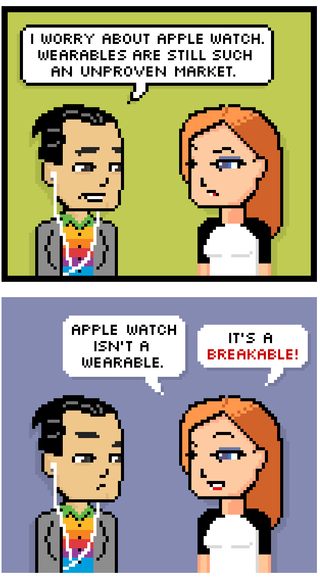 Ed: Welcome to this week's edition of The Pixel Project: a weekly comic from Diesel Sweeties' Rich Stevens on Apple, technology, and everything in-between. Today: A Truly Smashing Fashion Statement.
Get the best of iMore in your inbox, every day!
Pixel lover and cartoonist. Still have my original Apple IIgs. See more at clango.org or follow him on Twitter @rstevens.
Maybe it's just me but I've yet to see anything funny from this comic on here.

Cynical yet "sad but true" humor.
Well played. Sent from the iMore App

Not funny  Sent from the iMore App

Not insightful or funny. Not even slightly amusing.

Next logical step: everything from sushi to printer ink to in app purchases have shown us the real money is in: consumables! Sent from the iMore App

The Apple watch might as well be all their things, because it doesn't seem like it will be much of a watch. People seem to forget that the Pebble did so well because notifications are nice, but at least you could look at it and tell what the damn time was. And the screen would stay on. Like a watch. Not a fancy bracelet. Posted from the amazing whatever device I can afford because I'm a broke college kid.

Amen. Posted via the iMore App for Android

Like others have said, I didn't find this the least bit humorous.

Agreed. And this was one of the better ones. Sad.

I liked it. It gave a little chuckle and something to think about. Perhaps too much truth telling for some people. I thought the last panel was going to be "fashionables".

Capisco che il governo tedesco è pronto a evitare la frase "taglio del debito." Ma il fatto è, sarebbe meglio, e in ultima analisi, venire molto più conveniente per i creditori, di estendere i prestiti e facendo finta che non perdite saranno subite se solo reddito distruggendo austerity continua. http://www.trucchipergiochi.com/