Upcoming iOS 8 update to FiftyThree's Pencil stylus will bring pressure sensitivity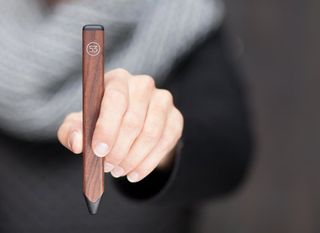 The fine folks behind the Paper app for iPad have announced a new feature launching with iOS 8 this fall which allows those that use their dedicated Pencil accessory added creative options. With the new Surface Pressure feature, users will be able to angle the stylus for broad strokes, rather than the strong concentrated lines you get currently when simply using the tip. This will also go for the eraser tip, so width of strokes is dynamically chosen based on orientation of Pencil and without having to fiddle with sliders to change it.
As always, Paper offers just about the most compelling sketching app available on iOS. Various pen tips and colors are available to purchase, allowing users to make out rough designs, get artistic, or simply take freehand notes. A smart undo system, easy online sharing, and gesture-based zoom function make Paper particularly more intelligent than its pulpy counterpart.
We'll have to wait until the fall for Surface Pressure to go live, unfortunately. How many of you guys use Paper on a regular basis?
Source: FiftyThree
Get the best of iMore in your inbox, every day!
Editor-at-very-large at Mobile Nations, gamer, giant.
This isn't pressure sensitivity at all, it's position sensing. Or am I missing something? Pressure sensitivity is something MUCH different.

@BoxOfSnoo They are referring to the digital rendition of a user varying the pressure of a pencil, hence "pressure sensitivity." I agree that its technically not 'true' pressure sensitive drawing, but its probably better to use a position sensing stylus instead of the already created pressure sensitive drawing stylus (JOT). The iPad screen can't sense pressure (its a glass panel) so it relies on the stylus's sensors (weak-point) which can render inconsistent results. By including the iPad's digitizer to sense the stylus's position (using a larger contact patch), results should be more fluid and consistent. But then again, we'll really find out in the Fall...