USB Type-C spec finalized but no word on when it will launch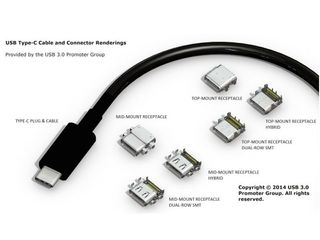 The USB 3.0 Promoter Group has now finalized the spec for a new connector and cable, USB Type-C, that is much smaller than current USB ports and cables. It is also designed to offer reversible plug and cable orientation, meaning that users will be able to insert a USB Type-C cable in its supported port in either direction.
The port will support USB 3.1, otherwise known as SuperSpeed USB, which will offer data transfer speeds of up to 10 Gbps. The port will also support power delivery up to 100W. However, the new connector and cable design does meant that current USB devices will have to use adapters to use the Type-C products.
This news means that at some point, many upcoming smartphones, tablets, notebooks and desktop PCs will have USB Type-C ports, which could make them easier to use for consumers. The only catch is that it may be a little while before the first products are released with USB Type-C connections. Today's announcement gave no indications of a launch date for the new spec.
Source: USB 3.0 Promoter Group
I have been writing professionally about technology and gaming news for 14 years.
"The port will support USB 3.1, otherwise known as SuperSpeed USB ..." ... which will enable Monster to get away with selling 0.5 meter gold-plated-connector USB Type-C cables for $100. But just for a few weeks or months, and only to suckers. As soon as Monoprice starts selling them for $5, Monster will drop their prices to the standard $20 for 0.5 meters.

You got it and there will is one born every day and Monster know it. My late Father In Law would never accept that just because something is really expensive that it is not necessarily better. The number of times I had to explain that I could make a Cat 5e cable that is 30 foot long for him for free but he went down to Staples and paid $50 for one because a free one can't be good. These days when a friend tells me about how much they spent on a lead or cable I just shrug sign and say "That's nice" and feel my heart sink a little inside. No point in trying to educate people LOL

Please let the connector have the same shape as Lightning. If only so I don't have to hear all the whining about it.

"This news means that at some point, many upcoming smartphones, tablets, ... will have USB Type-C ports, ..." Let's see how many decades the EU will need to modify the law that these devices must have Micro-USB ports for charging.

Technically USB 3.1 is SuperSpeed USB 10 Gbps. 3.0 is vanilla SuperSpeed. Sent from the iMore App

The first devices won't come before the next 2 years*. It will only be PROPERLY adopted when Samsung or Apple starts releasing devices with it in 5 years. *just an estimate

More importantly, while the first devices may take a couple of years to hit the marketplace, it means that yet again there is another USB connector shape floating around and yet, Dreyfus2, you are right, so very very right, the EU lawmakers will probably demand that the phone makers have a micro-USB connector or they supply an adapter that allows any micro-USB connector to be used on a device with a USB 3 connector. Yet another occasion when Governmental nannying just complicates things when really it probably would have Harmonized to micro-USB anyway and similarly would have migrated towards the USB 3 connector and harmonize onto that over time.

It amazes me how many devices such as flash drives and external storage devices still come with only USB 2.0. They are robbing the unwashed masses who don't know any better.

Once I finally upgrade to a Mac next year, I will entrenched in their ecosystem because that is my major is moving towards using. Mheh. Tired of cheap android and PC crapware. Sent from the iMore App
Get the best of iMore in in your inbox, every day!
Thank you for signing up to iMore. You will receive a verification email shortly.
There was a problem. Please refresh the page and try again.