Weekly Photo Contest: Pets!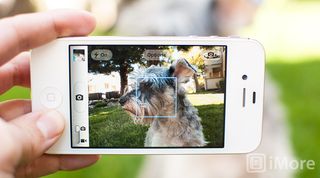 It's time to announce this week's photo contest -- and the winner of last week's portrait photography contest. Before I do, I want to congratulate everyone on their awesome entries. We've got some talented iPhoneographer readers here at iMore and it wasn't an easy decision!
And the winning entry is...
...this gorgeous and unique portrait by tnahumck! Everything about this photo is simply amazing -- especially the being underwater part! And bubbles! I was also very impressed with a few technical elements of this photos as well. First, despite being underwater, the lighting is phenomenal. The photo is also in great focus. It must have been difficult not to capture any motion blur while underwater! Lastly, tnahumck took care with composition and used the rule of thirds, which gives a great sense of location with the blue-green water to the left of the boy. Great work tnahumck!
tnahumck used a LifeProof Case (opens in new tab) to protect his iPhone from the water, took the photo with Camera+, and edited it with Snapseed.
Camera+, $0.99 - [Download Now](http://itunes.apple.com/us/app/camera?at=10l3Vy&ct=UUimUdUnU14623 /id329670577?mt=8&at=10l3Vy&ct=d_im)
Snapseed, Free (on sale, normally $4.99) - Download Now

(opens in new tab)
This week's contest: Pets!
With the end of one photo contest, comes the beginning of new one, and this week's focus in on pets! Many of you submitted gorgeous photos of your pets in last week's portrait contest, so please submit them to this contest as well! Please also include the name of your pet in your submission.
The prize: Glif tripod mount and stand
In addition to a thumbs up from the iMore crew and all of us yelling about how great of a photo star you are, the winner of this week's photography contest will receive a Glif tripod mount and stand!
The rules
The rules of entry are very simple. The photo must have been taken with an iPhone or iPad (we'll check the EXIF data of the original file to verify) and any edits must have been done with an iPhone or iPad app. No Photoshop CS6! If you have external lens accessories you are more than welcome to use them. You can submit as many photos as you'd like, but remember, this is a contest, so make sure you submit your best work!
Resources
Now, before you run off to take your photos, remember that it's not technical skill alone that will claim this prize. Even if you're not the best photographer (yet!), a great eye and a great subject can still get you the win. However, a little help can never hurt, so make sure you check out these articles from our iPhone photography series for some tips.
How to submit
Submitting your photos is easy. Just head over to the iMore Photography Forum and post your photos to the official contest thread. Don't forget to state which apps, if any, you used to edit your photo!
That's it! Now go out and shoot!
Former app and photography editor at iMore, Leanna has since moved on to other endeavors. Mother, wife, mathamagician, even though she no longer writes for iMore you can still follow her on Twitter @llofte.
Toothache material.
You guys are gonna make me have the guts to dunk my Lifeproof-encased 4S at the pool,... one of these days.
FYI, the manufacturer apparently recommends dunking the case, sealed, and sans-iPhone FIRST, to make sure the seals and whatnot are working properly before risking your device.
I wanna take a picture underwater so badly that I can taste it.

West: It isn't scary at all. I did test the case like you mentioned, but it didn't leak. I used it a TON on vacation. If you go to the portraits thread, you can see the other underwater photos I took. I'm amazed at how well they turned out! You will love taking photos with it. Great product for sure.
Thanks Leanna & iMore for choosing my entry!

Where did you get that shot of the baby Ewok?

LOL
Y'know, I just realized the implication that that photo was taken with an iPhone. envious green
That's kind of amazing.

I did take that photo with my iPhone...

Not doubting. Just dying...of jealousy.

I will make the picture of my dog.will be making 14 years old this week.

Hi, is this comp U.S only or is it worldwide. I am in the U.K. Cheers, Dave.

i have a growing baby so fun to click pictures....;)
Get the best of iMore in in your inbox, every day!
Thank you for signing up to iMore. You will receive a verification email shortly.
There was a problem. Please refresh the page and try again.