Weekly Photo Contest: Sexy Beach!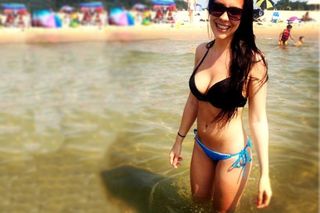 It's time to announce this week's photo contest -- and the winner of last week's gadget photography contest. Before I do, I want to congratulate everyone on their awesome entries. We've got some talented iPhoneographer readers here at iMore and it wasn't an easy decision!
And the winning entry is...
...this awesome photo of SimpleAsItSeems's Nikon FE with a 50mm 1.8 Series E lens! The high contrast between the camera and everything else made for a perfect black and white conversion. Great work SimpleAsItSeems!
SimpleAsItSeems took this photo with an iPhone 4S and edited it with Camera+ and VSCO CAM.
Camera+, $0.99 - [Download Now](http://itunes.apple.com/us/app/camera?at=10l3Vy&ct=UUimUdUnU15185 /id329670577?mt=8&at=10l3Vy&ct=d_im)
VSCO CAM, $0.99 - Download Now

(opens in new tab)
This week's contest: Sexy Beach!
We're in the middle of summer which means trips to beaches, lakes, rivers, and just about any body of water we can find. And what do you get when you combine the hot summer sun with water? Half-naked hot bodies! Need we say more? Let's see those sexy beach photos! Now, by "beach", we don't actually mean only the beach -- we're really just looking for an excuse to see sexy bodies -- both male and female! As always, be creative with your photos and find some sexy angles!
Seriously, though, be tasteful. Keep it PG-13, please.
The prize: Glif tripod mount and stand!
In addition to a thumbs up from the iMore crew and all of us yelling about how great of a photo star you are, the winner of this week's photography contest will receive a Glif tripod mount and stand!
The rules
The rules of entry are very simple. The photo must have been taken with an iPhone, iPad, or iPod touch (we'll check the EXIF data of the original file to verify) and any edits must have been done with an iPhone or iPad app. No Photoshop CS6! If you have external lens accessories you are more than welcome to use them. You can submit as many photos as you'd like, but remember, this is a contest, so make sure you submit your best work!
Resources
Now, before you run off to take your photo, remember that it's not technical skill alone that will claim this prize. Even if you're not the best photographer (yet!), a great eye and a great subject can still get you the win.
However, a little help can never hurt, so make sure you check out these articles from our iPhone photography series for some tips.
How to submit
Submitting your photos is easy. just head over to the iMore Photography Forum and post your photos to the official contest thread. Don't forget to state which apps, if any, you used to edit your photo!
That's it! Now go out and shoot!
Former app and photography editor at iMore, Leanna has since moved on to other endeavors. Mother, wife, mathamagician, even though she no longer writes for iMore you can still follow her on Twitter @llofte.
The girl in the photos is my sister, so any and all disgusting comments will be removed. You can complement, but don't be vulgar.

Post picture of girl in bikini
Expects internet to be nice lol

She is stunning but I am stunned that you would put a picture of your sister up?

you seemed to have missed my point... but ill let you be now that i read again.. not sure if you're posting to OP or me... hrmm

Wow. Your family has good genes!

Your sister is a hottie. Seriously, I thought that was a swimsuit model.

Which I why I went right to her for pics :)

WOW- Ill keep it at that. ;)

Keep the contents coming. Although, I'm a bit bummed for this one as I'm nowhere near the beach (maybe a lake beach? hmm ...). The Midwest can be so boring. edit - Nevermind. I just noticed it doesn't have to be on the beach, PS - Your sister is a doll.

Yep! You can be at a beach, lake, river, pool, whatever :)

In fact, the pictures of my sis were at a lake :)

That's a good point. I'll have to see if I have time on this one (as well as upcoming contents). I enjoyed the Car Contest but have yet to submit anything since then. And, um, I'll go ahead & ask. Any other photos of your sis? :P

Might as well have a disclaimer: This week's contest not available for the Seattle area. (Have you seen our forecast these days? Half-naked hot bodies around here means we're just lucky to see anyone wearing shorts. With a hoodie.) Wow, Leanna, anyone in your family not photogenic? That's just crazy.

It's 108 here in the midwest. I think I'd rather it be cloudy. :(

To bad weather out here hasn't been that great to hit the lake, beach, river, pool...But your sister does look beautiful.

I wish I looked like that in a bikini!

Your sister looks like Georgia. Kinda. Which is a good thing!

At first glance, I too thought that was Georgia. She is gorgeous Leanna.

thought it was georgia as well..

Hope you had a waterproof case. I'm nervous just thinking about it..

So you must be or know someone sexy to be in this contest? No guarantees haha

How do I claim my prize for winning last week's contest?

You and your sister both are gorgeous. Certainly would be proud to have either of you on my arm
Get the best of iMore in in your inbox, every day!
Thank you for signing up to iMore. You will receive a verification email shortly.
There was a problem. Please refresh the page and try again.