This is what CarPlay looks like for Mercedes-Benz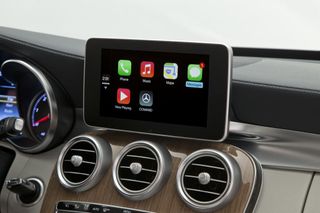 Mercedes-Benz has released some details and photos regarding their upcoming CarPlay integration. Mercedes debuted the system at the Geneva Motor Show with their new C-Class model. CarPlay in the C-Class consists of a tablet-like screen mounted above the central panel, which the phone will connect to via Lightning connector. In addition to the Phone, Music, Maps, Messages, and Now Playing buttons, their will also be a button for Mercedes' own COMAND app. Daimler AG:
What do you think of Mercedes' take on CarPlay? Let us know below in the comments.
Source: Daimler AG (1), (2)
Get the best of iMore in in your inbox, every day!
Joseph Keller is the former Editor in Chief of iMore. An Apple user for almost 20 years, he spends his time learning the ins and outs of iOS and macOS, always finding ways of getting the most out of his iPhone, iPad, Apple Watch, and Mac.
I will be getting a 2015 Honda Fit EX later this spring and summer and couldn't be more excited about the CarPlay function that will be updated for the fit. Built in touch screen with car, and a handy update from Apple and ios 7.1. Can't wait! Sent from the iMore App

That's... um... uh... not exactly elegant...?

yeah exactly. It doesn't remotely strike me as mercedesish. I have one and the cup holder is more elegant.

Maybe it retracts into the dash like the not as smart nav systems?

Doesn't look like something Mercedes would actually be putting out... Really??? Wtf??? Sent from the iMore App

It looks like the after of a DIY Nexus 7 youtube install

Looks like they just duct taped it where it would fit. Not exactly Apple or Mercedes worthy.

Not that good, it just looks like a tablet that have been put on a stand.They should go for a more integrated look, especially for their brand image.

Looks nice! Very familiar feature and very simple system to use. Now I just need the MB. I'm just waiting for iMore to giveaway the system with a new Mercedes Benz. Sent from the iMore App

Just a note, this is how the screen looks in both the C and A series, with or without the iPhone integration. Nope, not very elegant, but thats the way it is. Been that way since long before the integration was announced.

Nice. Mercedes only places the technology in their chep lines.

Odd design placement and look .not like I can afford a Mercedes anyways so .....hopefully Honda does a better job

Or Toyota & Nissan which are actually a less expensive than Mercedes and have better Gas millage. Sent from the iMore App

The car on the apple site is a Honda Civic

Lol. That's what I think. It looks like someone glued a tablet to the a/c vent. VERY aftermarket. Why no built in look? At least have it slide out of the dash like a Audi. Sad. Looks like Samsung doesn't win the award for cheapest looking design for 20@4 after all. Posted via the Android iMore App!

Wouldn't it make a lot profit and sense if they created some sort of device that transfer/ convert what on your phone to the dash board display, how many people are going to buy new cars every year? Sent from the iMore App

I think the CarPlay concept is to use the touchscreen in the dashboard as a "second screen" under control of the iPhone. The software that handles entertainment programming and settings would remain more or less the same, assuming that it is already controlled by a central processor. But the actual visible UI would be under the control of iOS. So Apple could update the interface whenever they see fit, by updating a component of iPhone iOS. The Mercedes executive let slip that it would be a lot like AirPlay. Which would imply that a small, inexpensive Apple circuit board would be embedded in the car's electronics. The actual UI would then be sent to that device by the driver's iPhone. Just like AirPlay. The control software would then respond to commands from the embedded CarPlay controller instead of by the dashboard knobs and buttons etc. I think Apple and Tesla had three things to talk about in that meeting with Musk. CarPlay integration, re-designing Tesla's ugly in-dash displays, and batteries. Apparently Tesla and Apple will be shipping the same total tonnage of batteries this year.

In a nutshell: Mercedes COMAND system: way too many tiny little buttons all over. BMW iDrive system: way too few buttons and knobs.

This is very likely a completely software thing. I wonder if they'll make it backwards compatible to any degree. Actually just seen SockRolids reply. Maybe not.......

Given what the new S-Class dashboard looks like, Im more excited to see how CarPlay is gonna look/fit in there! (probably not like this).

"Could it be more uglier please?" -sure! We have the LE version, the screen is actually holded by a string. Lol just kidding. Still looks ugly. Sent from the iMore App

This isn't elegant at all. I would expect Apple and Mercedes to have something a lot "cleaner" looking. I'm excited about the functionality. Sent from the iMore App

How ugly is that!!! Mercedes need to work harder like Volvo which is awesome Sent from the iMore App

iPhone 6? Ha. That is so lame looking. Fail. I might as well slap an iPad on my dash and call it done. Sent from the iMore App

Dear god that is ugly. Now, the 2015 Audi TT interface is a work of art. http://m.youtube.com/watch?feature=youtu.be&v=Wlm6lD23d0g This is how you do it. Posted via the Android iMore App! on BlackBerry Z30

Damn, at least match the wooden bevel so it doesn't look like a Velcro'd iPod touch.
Thank you for signing up to iMore. You will receive a verification email shortly.
There was a problem. Please refresh the page and try again.